Mar 1, 2015
New high endurance 64GB microSDXC card stands up to 10,000 hours of Full HD video recording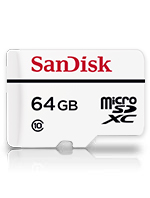 MOBILE WORLD CONGRESS, BARCELONA, March 1, 2015 – SanDisk Corporation (NASDAQ: SNDK), a global leader in flash storage solutions, today introduced the company's first high endurance microSDXC™ memory card built to withstand up to 10,000 hours of Full HD Video1 recording.
Leveraging its deep expertise in NAND flash and systems technology capabilities, SanDisk developed a proprietary technology and process to enable high-intensity recording. Through rigorous testing, the new technology has proven itself to enable the company to reach a new milestone -- a 64GB2 microSDXC card that allows consumers to write and rewrite up to 10,000 hours of Full HD video recording.
The new SanDisk® High Endurance Video Monitoring microSDXC/microSDHC™ cards are designed specifically for dash cameras and home video monitoring systems, ensuring drivers and homeowners have reliable video evidence at their fingertips.  The high endurance card is also available in 32GB capacity, which can withstand up to 5,000 hours of Full HD1 recording.
With the new SanDisk High Endurance Video Monitoring microSDHC/microSDXC cards, security-minded consumers no longer have to worry about their card sustaining long-term, continuous recording scenarios.
"We are excited to enter this emerging market with a product that marks a significant milestone for the company and industry," said Dinesh Bahal, vice president, product marketing, SanDisk, "We recognized that today's auto and home video monitoring systems require more demanding memory solutions, so we leveraged our expertise to deliver a technologically advanced microSD card that truly meets the needs of this growing market."
Engineered for performance and durability, the SanDisk High Endurance Video Monitoring microSDHC/microSDXC cards are notably designed to weather the elements. Whether out in the rain or snow, or sitting on the dash of a hot car, users can expect seamless performance. The cards have been tested and proven to be shock and water proof, so they deliver in even the harshest environments3. 
The SanDisk High Endurance Video Monitoring cards also features Class 10 technology to provide the speeds required to perform in a variety of monitoring systems. The new offerings deliver the capacity, performance and exceptional reliability today's dash cams and in-home video monitoring systems demand to ensure users can capture and utilize the evidence they need. 
Pricing and Availability
The SanDisk High Endurance Video Monitoring microSDHC/microSDXC cards feature a two-year warranty4 and are priced at an MSRP of $84.99 and $149.99 for the 32GB and 64GB capacities, respectively.  Initially, the cards will only be available in the United States at SanDisk.com, and select retailers in Europe and South Korea.
About SanDisk
SanDisk Corporation (NASDAQ: SNDK), a Fortune 500 and S&P 500 company, is a global leader in flash storage solutions. For more than 25 years, SanDisk has expanded the possibilities of storage, providing trusted and innovative products that have transformed the electronics industry. Today, SanDisk's quality, state-of-the-art solutions are at the heart of many of the world's largest data centers, and embedded in advanced smartphones, tablets and PCs. SanDisk's consumer products are available at hundreds of thousands of retail stores worldwide. For more information, visit www.sandisk.com.
---
1 Based on Full HD (1920x1080) video content recorded at 26 Mbps to one device; Results, video support and performance may vary depending on host device, file attributes and other factors.
2 1GB=1,000,000,000 bytes. Actual user storage less.
3 Card only. See product packaging and www.sandisk.com/proof for more information and limitations.
4 See www.sandisk.com/wug
© 2015 SanDisk Corporation. All rights reserved. SanDisk is a trademark of SanDisk Corporation, registered in the United States and other countries. The microSD, microSDHC, microSDXC and SD marks and logos are trademarks of SD-3D, LLC.
This news release contains certain forward-looking statements, including expectations for markets, customers and product performance that are based on our current expectations and involve numerous risks and uncertainties that may cause these forward-looking statements to be inaccurate. Risks that may cause these forward-looking statements to be inaccurate include among others: the market demand for our products may grow more slowly than our expectations or our products may not perform as expected, be available in the capacities or at the price that we expect, or the other risks detailed from time-to-time in our Securities and Exchange Commission filings and reports, including, but not limited to, our most recent annual report on Form 10-K. We do not intend to update the information contained in this news release.
Media Contact:
Joanna Andrade
SanDisk Corporation
408-801-1792
Joanna.andrade@sandisk.com