Feb 11, 2014
SanDisk Extreme PRO® USB 3.0 Flash Drive Provides Write Speeds
Up to 240MB/sec1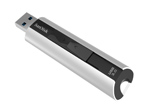 MILPITAS, Calif., Feb. 11, 2014 – SanDisk Corporation (NASDAQ: SNDK), a global leader in flash storage solutions, today announced the SanDisk Extreme PRO® USB 3.0 flash drive, featuring professional-grade performance with some of the fastest speeds in the industry at up to 60 times faster than standard USB 2.0 drives1, and providing a generous 128GB* of storage.
"The SanDisk Extreme PRO USB 3.0 drive offers world-class performance for technology aficionados who demand high-speed, durability and peace of mind that their files will be safe," said Philippe Willams, director of product marketing, SanDisk. "We are excited to be expanding our USB 3.0 solutions, and this is another example of our efforts to enable consumers with fast access to content and data."
The high-performance SanDisk Extreme PRO USB 3.0 flash drive takes advantage of the next-generation specification by providing write speeds up to 240MB/s1 and read speeds up to 260MB/s1. These speeds allow users to transfer a full-length movie in seconds, or 1,000 hi-res photos in less than 35 seconds2, making the drive ideal for carrying video and photo collections. These are some of the reasons why USB 3.0-enabled device shipments will surpass two billion in 2016, up from approximately 600 million in 2013, according to Multimedia Research Group, Inc3.
SanDisk's Extreme PRO USB 3.0 flash drive offers a sophisticated and durable aluminum metal casing, which protects against everyday wear and tear. Also included is SanDisk SecureAccess™ software that provides 128-bit AES file encryption and password protection4 to secure private files while leaving the rest of the drive visible for sharing.
Pricing and Availability
The SanDisk Extreme PRO USB 3.0 flash drive is available worldwide now and on www.sandisk.com in a 128GB capacity carrying an MSRP of $199.99. Additionally, the drive is backed with a lifetime limited warranty5 and world-class customer support.
About SanDisk
SanDisk Corporation (NASDAQ: SNDK), a Fortune 500 and S&P 500 company, is a global leader in flash storage solutions. For more than 25 years, SanDisk has expanded the possibilities of storage, providing trusted and innovative products that have transformed the electronics industry. Today, SanDisk's quality, state-of-the-art solutions are at the heart of many of the world's largest data centers, and embedded in advanced smart phones, tablets and PCs. SanDisk's consumer products are available at hundreds of thousands of retail stores worldwide. For more information, visit www.sandisk.com.
---
© 2014 SanDisk Corporation. All rights reserved. SanDisk and SanDisk Extreme PRO are trademarks of SanDisk Corporation, registered in the United States and other countries. SanDisk SecureAccess is a trademark of SanDisk Corporation. All other trademarks are the property of their respective owners.
* 1GB = 1,000,000,000 bytes. Actual user storage less.
1 Up to 240MB/s write speed to drive, up to 60 times faster than standard USB 2.0 drives (4MB/s); up to 260MB/s read speed. USB 3.0 port required. Based on internal testing; performance may be lower depending upon host device. 1MB = 1,000,000 bytes.
2 Based on 1.2GB video transfer (MP4) or 3.6GB transfer of photos (avg. file 3.8MB) with USB 3.0 host device. Results may vary based on host device, file attributes and other factors.
3 Multi Research Group Inc. host device forecasts October 2012
4 Password protection uses 128-bit AES encryption and is supported by Windows® XP, Windows Vista®, Windows 7, Windows 8 and Mac OS X v10.5+ (Software download required for Mac, see www.sandisk.com/secureaccess)
5 30 years in Germany, Canada and regions not recognizing lifetime warranty, see www.sandisk.com/wug.
This news release contains certain forward-looking statements, including expectations for markets and customers that are based on our current expectations and involve numerous risks and uncertainties that may cause these forward-looking statements to be inaccurate. Risks that may cause these forward-looking statements to be inaccurate include among others: the market demand for our products may grow more slowly than our expectations or our products may not be available in the capacities that we expect or perform as expected, or the other risks detailed from time-to-time in our Securities and Exchange Commission filings and reports, including, but not limited to, our most recent quarterly report on Form 10-Q and our annual report on Form 10-K. We do not intend to update the information contained in this news release.