Feb 10, 2014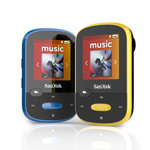 MILPITAS, Calif., Feb. 10, 2014 – SanDisk Corporation (NASDAQ: SNDK), a global leader in flash storage solutions, today announced the SanDisk Clip Sport MP3 player, designed with a lightweight build and a clip that enables it to securely attach to clothes. The SanDisk Clip Sport MP3 player lets users enjoy their music, audiobooks or favorite radio station during workouts and outdoor activities.
"The Clip Sport MP3 is the newest addition to our line of MP3 players, and its sleek form factor, lightweight design, attached clip and long battery life make it the perfect companion for runners, fitness buffs and anyone on-the-go," said Hugh Cooney, senior director, Strategic Business Development, SanDisk. "The Clip Sport also comes in six different colors, and the matching headphones provide excellent sound to keep users motivated."
With nearly 30 million players sold, the Clip Sport is the next installment to SanDisk's successful line of MP3 devices. The SanDisk Clip Sport MP3 player is available in a wide selection of colors and has a 25-hour battery life1. The MP3 player also features a large LCD screen for easy on-the-move navigation, and a built-in FM tuner that can interface with a fitness club's wall-mounted TV or play the user's favorite FM radio station. The MP3 player is also designed with a memory card slot for added capacity to carry even more music2.
Pricing and Availability
The SanDisk Clip Sport MP3 player is shipping now in the U.S. and select countries in EMEA with broader availability in the coming months, and is available in 4GB to 16GB3 capacities carrying MSRPs of $39.99 to $69.99.
About SanDisk
SanDisk Corporation (NASDAQ: SNDK), a Fortune 500 and S&P 500 company, is a global leader in flash storage solutions. For more than 25 years, SanDisk has expanded the possibilities of storage, providing trusted and innovative products that have transformed the electronics industry. Today, SanDisk's quality, state-of-the-art solutions are at the heart of many of the world's largest data centers, and embedded in advanced smart phones, tablets and PCs. SanDisk's consumer products are available at hundreds of thousands of retail stores worldwide. For more information, visit www.sandisk.com.
---
© 2014 SanDisk Corporation. All rights reserved. SanDisk is a trademark of SanDisk Corporation, registered in the United States and other countries.
1 Based on continuous playback at 128 kbps MP3; actual life and performance may vary depending upon usage and settings; battery not replaceable.
2 Card not included; sold separately.
3 1GB=1,000,000,000 bytes. Actual user storage is less.
This news release contains certain forward-looking statements, including expectations for markets and customers that are based on our current expectations and involve numerous risks and uncertainties that may cause these forward-looking statements to be inaccurate. Risks that may cause these forward-looking statements to be inaccurate include among others: the market demand for our products may grow more slowly than our expectations or our products may not perform as expected, be available at the prices or in the capacities that we expect, or the other risks detailed from time-to-time in our Securities and Exchange Commission filings and reports, including, but not limited to, our most recent quarterly report on Form 10-Q and our annual report on Form 10-K. We do not intend to update the information contained in this news release.