Feb 14, 2012
Achieves up to 500/420 MB/s Sequential Read/Write Speeds; Available In A Variety of Capacities and Form Factors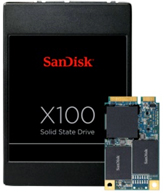 MILPITAS, Calif., February 14, 2012-SanDisk Corporation (NASDAQ: SNDK), a global leader in flash memory storage solutions, today announced the SanDisk® X100 solid state drive (SSD) for client computing markets. The SanDisk X100 SSD is available in capacities up to 512GB1 and utilizes multi-level cell (MLC) technology, a SATA 6Gb/s high-performance interface, advanced multi-streaming features and tiered caching technology.
The drive offers up to 500/420 megabyte per second (MB/sec) 2 sequential read/write speeds, and enables a user to copy a 4GB high-definition movie in less than 10 seconds*. In addition to the standard 2.5 inch form factor, the X100 SSD also comes in mSATA and customized thin form factors to address the emerging ultra-thin laptop market. SanDisk offers a wide variety of configuration options, including standalone and dual drive caching solutions.
"With the introduction of the X100 SSD, SanDisk now offers OEMs a complete selection of SSD storage choices," said Kevin Conley, senior vice president and general manager, client storage solutions, SanDisk. "From the smallest BGA form factors of the iSSD to the economical lower power U100, all the way up to the high performance and high capacity points of our new X100, SanDisk offers a solution to meet the needs of notebook, desktop and ultra-thin laptop manufacturers."
The SanDisk X100 SSD achieves long-term reliability through robust, continual background error checking and advanced NAND recovery mechanisms. The drive is available now for sampling to PC manufacturers and production-volume shipments.
Specifications
Performance
• Up to 500/420 MB/s sequential read/write speeds
Capacity
• 32GB, 64GB, 128GB, 256GB, 512GB
Form Factor
• Cased 2.5 inch 7mm or 9.5mm, mSATA and customized form factors
Interface
• SATA 6Gb/s
Power Consumption
• Active Power (Typical)**: 150mW (@ 3.3V)
• Standby Mode (Typical)***: 75mW (@ 3.3V)
Reliability
• MTBF up to two million hours3
Target Platforms
• Ultrabook, notebook, and desktop computers
SanDisk Solid State Drives
SanDisk also announced today the SanDisk Extreme® SSD, a high-performance drive for consumers who want to improve the performance and extend the life of their desktop and notebook PCs.
SanDisk offers a full portfolio of products for the OEM, enterprise and retail channels that is supported by more than 20 years of flash memory innovation and the benefits of vertical integration. The OEM products include SanDisk® U100 SSD for cost-effective performance and customized form factors, SanDisk® iSSD™ for OEMs who need an embedded micro SSD SATA form factor, and X100 SSD for the utmost in performance and storage capacity. All models are available as standalone SSDs or dual drive caching solutions.
About SanDisk
SanDisk Corporation (NASDAQ: SNDK) is a global leader in flash memory storage solutions, from research and development, product design and manufacturing to branding and distribution for OEM and retail channels. Since 1988, SanDisk's innovations in flash memory and storage system technologies have provided customers with new and transformational digital experiences. SanDisk's diverse product portfolio includes flash memory cards and embedded solutions used in smart phones, tablets, digital cameras, camcorders, digital media players and other consumer electronic devices, as well as USB flash drives and solid-state drives (SSD) for the computing market. SanDisk's products are used by consumers and enterprise customers around the world.
SanDisk is a Silicon Valley-based S&P 500 and Fortune 500 company, with more than half its sales outside the United States. For more information, visit www.sandisk.com.
---
11 gigabyte = 1 billion bytes. Some capacity not available for data storage.
2Based on SanDisk internal testing; performance may be lower depending upon host device, OS and application. Performance numbers indicated are applicable to 256GB and up.
3MTBF - Mean Time Between Failures based on part stress analysis.
* Based on internal SanDisk testing of a high definition movie in AVI format.
** MobileMark® 2007 Workload
*** With Slumber (SATA PHY state) power mode and DIPM enabled.
© 2012 SanDisk Corporation. All rights reserved. SanDisk, SanDisk Ultra, SanDisk Extreme and the SanDisk logo are trademarks of SanDisk Corporation, registered in the United States and other countries. iSSD is a trademark of SanDisk Corporation. Other brand names mentioned herein are for identification purposes only and may be the trademarks of their respective holder (s).
This press release contains certain forward-looking statements, including expectations for new products, applications, features, markets and customers that are based on our current expectations and involve numerous risks and uncertainties that may cause these forward-looking statements to be inaccurate. Risks that may cause these forward-looking statements to be inaccurate include among others: the market demand for our products may grow more slowly than our expectations, our products may not be available in the capacities that we anticipate or our products may not perform as expected and the other risks detailed from time-to-time in our Securities and Exchange Commission filings and reports, including, but not limited to our quarterly reports on Form 10-Q and our annual report on Form 10-K and. We do not intend to update the information contained in this press release.