Feb 14, 2011
SanDisk optimizes performance of mobile storage devices through close engagement with leading chipset and operating system vendors
Tight integration among the storage device, processor and operating system is mandatory to achieve greater system responsiveness for faster boot times, application launches and web browsing
Key companies including Texas Instruments, Freescale Semiconductor, Intel Corporation, Marvell, Microsoft and NVIDIA participate at SanDisk's partner pavilion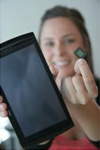 Mobile World Congress, Barcelona, February 14, 2011-SanDisk Corporation (NASDAQ: SNDK), the global leader in flash memory cards, today announced that several of the industry's major chipset vendors have selected SanDisk's iNAND™ embedded storage device for use in their new reference designs-the boards on which next-generation mobile phones and tablets are developed. As the trusted storage solution provider for hundreds of mobile phone and consumer electronic designs, SanDisk is uniquely positioned to help OEMs optimize the performance of their products.
SanDisk works closely with industry leaders such as Texas Instruments Incorporated (TI), Windows® Phone, Freescale Semiconductor, Intel Corporation, Marvell, Microsoft Corporation and NVIDIA to optimize how its iNAND (e.MMC interface) and integrated solid state drive (iSSD) flash storage products interact with the processors, operating systems and usage models of the specific devices in which they are used. This fine-tuning process makes it easier for OEMs to design mobile devices with the best possible performance and user experience. To view demonstrations of how these vendors implement SanDisk's embedded devices into their designs, Mobile World Congress attendees can visit the partner pavilion located in Hall P8, Stand 8B91.
"TI's OMAP™ 4 platform delivers breakthrough performances and best-in-class power management technology. With the Blaze™ mobile development platform, customers can develop innovative usage models on various operating systems," said Fred Cohen, director, OMAP wireless ecosystem, TI. "With the availability of complementary technologies like SanDisk's embedded memory, customers can incorporate a scalable storage solution to deliver better user experiences, faster boot times, and seamless multi-tasking across applications, all with a faster time-to-market."
The world's top mobile chipset vendors leverage SanDisk's flash memory expertise to ensure tight integration between the iNAND storage device and the processor. This results in faster phone boot times, application launches, Internet browsing and overall system responsiveness.
SanDisk also meets SATA interface requirements in high-end productivity tablets, and works closely to optimize chipset integration for its iSSD product line. Utilizing industry-leading mobile usage analysis capabilities, SanDisk designs its storage products with a firm understanding of the needs of end users and then shares this insight when engaging with mobile chipset vendors.
"As mobile devices continue to offer a growing array of advanced features, greater cohesion between storage and processor vendors is required," said Flint Pulskamp, research director, wireless and wired communications semiconductors, IDC. "Developers who tightly integrate all aspects of hardware and software design are more likely to meet a device manufacturer's reliability, performance, size and cost criteria."
"OEMs trust SanDisk because we are closely aligned with the design and engineering teams of all the major chipset designers," said Yoram Zylberberg, director, strategic business development, OEM, SanDisk. "As a result, no matter which processor a manufacturer chooses, they know that our iNAND embedded storage device is optimally integrated with it. This allows them to develop mobile devices that offer the best possible user experience within their cost envelope."
"SanDisk's iNAND and iSSD storage devices are tightly integrated with our chipsets, enabling optimal performance, product longevity and low power consumption," said Rajeev Kumar, i.MX product line manager for consumer products, Freescale. "As computing, mobile and consumer electronics continue to converge, SanDisk's e.MMC and SATA solutions help to deliver a scalable platform that meets the current and future needs of many OEM customers."
SanDisk offers a wide range of products and services for its OEM customers. These include high-volume manufacturing through joint ownership of the largest NAND flash fabs, a broad intellectual patent portfolio of more than 2,700 patents, leading NAND flash designs and process technologies as well as a global brand and reputation for high quality.
About SanDisk iNAND
SanDisk iNAND EFDs come in a wide range of storage capacities from 2 gigabytes (GB)1 to 64GB and utilizing e.MMC standard interfaces and packages for quick integration into handset designs. With managed physical partitions, customizable attributes and advanced power failure immunity, SanDisk iNAND features highly reliable boot code and application storage device capabilities in addition to being a mass storage solution. iNAND drives use advanced caching technology that improves system responsiveness, and are designed based on SanDisk's usage analysis capabilities. iNAND devices are based on both two-bit-per-cell (MLC) and three-bit-per-cell (X3) technologies.
About SanDisk iSSD
SanDisk iSSD is the world's smallest 64GB SSD and first in a new category of embedded SSDs that are smaller than a postage stamp and weigh less than a paper clip. iSSD is available in capacities ranging from 4GB to 64GB, with a SATA interface. iSSD is the fastest high-capacity embedded storage solution at this physical size, and is designed for high performance and reliability for mobile computing platforms including high-end tablets. iSSD devices are based on MLC technology.
About SanDisk
SanDisk Corporation is the global leader in flash memory cards - from research, manufacturing and product design to consumer branding and retail distribution. SanDisk's product portfolio includes flash memory cards for mobile phones, digital cameras and camcorders; digital audio/video players; USB flash drives for consumers and the enterprise; embedded memory for mobile devices; and solid state drives for computers. SanDisk is a Silicon Valley-based S&P 500 company, with more than half its sales outside the United States.
---
1 1 gigabyte (GB) = 1 billion bytes. Some capacity not available for data storage.
SanDisk's product and executive images can be downloaded from
http://www.sandisk.com/corporate/media.asp
SanDisk's web site/home page address: http://www.sandisk.com
© 2011 SanDisk Corporation. All rights reserved. SanDisk and the SanDisk logo are trademarks of SanDisk Corporation, registered in the United States and other countries. iNAND is a trademark of SanDisk Corporation. Other brand names mentioned herein are for identification purposes only and may be the trademarks of their respective holder (s).
This press release contains certain forward-looking statements, including expectations for applications, features, markets, and customers that are based on our current expectations and involve numerous risks and uncertainties that may cause these forward-looking statements to be inaccurate. Risks that may cause these forward-looking statements to be inaccurate include among others: the market demand for our products may grow more slowly than our expectations, our products may not be available in the capacities that we anticipate, our products may not perform as expected and the other risks detailed from time-to-time in our Securities and Exchange Commission filings and reports, including, but not limited to, our most recent quarterly report on Form 10-Q. We do not intend to update the information contained in this press release.