Oct 21, 2009
Cruzer Enterprise USB Flash Drive Raises Bar for Secure Devices - Only FIPS
140-2 Level 2 USB Flash Drive to Earn Common Criteria Certification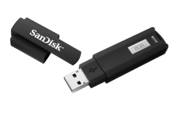 Milpitas, Calif., October 21, 2009 - SanDisk Corporation (NASDAQ: SNDK), the global leader in flash memory cards, today announced that the SanDisk® Cruzer® Enterprise FIPS edition secure USB flash drive has received Common Criteria EAL2 certification, making it the only USB flash drive to earn both Federal Information Processing Standards (FIPS) 140-2 Level 2 certification and Common Criteria certification.
The Common Criteria is an internationally recognized ISO standard (ISO/IEC 15408) used by governments and other organizations to assess the security functional requirements and security assurance requirements of technology products. With its certifications recognized in 26 countries, Common Criteria is an important global evaluation standard for security products.
"Common Criteria evaluations require a thorough examination of the entire device to certify its effectiveness in protecting the confidentiality, integrity and availability of sensitive information, including a comprehensive review of company internal processes," said David Matot, product marketing manager, enterprise solutions, SanDisk. "Cruzer Enterprise flash drives are the only USB drives in the world to hold both FIPS 140-2 and Common Criteria certifications, making them the USB flash drive of choice for organizations that require proven solutions from a leader in secure removable storage."
The Cruzer Enterprise secure USB drive was evaluated under the Australasian Information Security Evaluation Program, Defense Signals Directorate (DSD).
"A Common Criteria evaluation offers an independent evaluation of the security functionality of a product, thereby providing users with a level of assurance that the security features of the product will perform as claimed," said Mike Burgess, first assistant secretary, information security, DSD.
"Common Criteria gives organizations peace of mind when evaluating vendor products for implementation across their business," said Doug Stuart, chief operating officer, stratsec, the Australian-based information security company that conducted the evaluation. "The SanDisk Cruzer Enterprise USB flash drive FIPS edition product line has been rigorously tested, and organizations can have the assurance that the secure USB flash drive meets the stringent requirements for EAL2 certification."
In addition to earning critical security certifications that qualify Cruzer Enterprise secure USB for use in federal agencies and other security-driven organizations, SanDisk's line of Cruzer Enterprise USB flash drives passed an environmental test conducted by an independent laboratory, and were certified as meeting Military Standard 810-F 506.4 and 512.4 when submitted to immersion and rainy conditions using fresh water.
To deliver an additional layer of security for government and enterprise organizations, SanDisk provides Cruzer Enterprise secure USB drives with McAfee Malware Protection, which features an automatic anti-malware scan that prohibits file transfers to the secure USB drive when it detects infection on a host PC.
For greater control and security, agency or company-issued Cruzer Enterprise secure USB flash drives can be easily managed with SanDisk's Central Management and Control (CMC) software. SanDisk CMC server software provides lifecycle management for Cruzer Enterprise drives, including password recovery and renewal through the network, remote termination of lost drives, central backup and restore, and central usage tracking.
About Common Criteria
The Common Criteria represents the outcome of efforts to develop criteria for evaluation of IT security that are widely accepted within the international community. Further information is available at http://www.commoncriteriaportal.org.
About SanDisk
SanDisk Corporation is the global leader in flash memory cards, from research, manufacturing and product design to consumer branding and retail distribution. SanDisk's product portfolio includes flash memory cards for mobile phones, digital cameras and camcorders; digital audio/video players; USB flash drives for consumers and the enterprise; embedded memory for mobile devices; and solid state drives for computers. SanDisk is a Silicon Valley-based S&P 500 company, with more than half its sales outside the United States.
---
SanDisk's web site/home page address: http://www.sandisk.com
SanDisk's product and executive images can be downloaded from:
http://www.sandisk.com/about-sandisk/media-kit

For more Information visit: http://www.sandisk.com/Enterprise
SanDisk, the SanDisk logo and Cruzer are trademarks of SanDisk Corporation, registered in the U.S. and other countries. Other brand names mentioned herein are for identification purposes only and may be trademarks of their respective holder(s).
This press release contains certain forward-looking statements, including expectations for new product introductions, applications, features, security, markets, and customers that are based on our current expectations and involve numerous risks and uncertainties that may cause these forward-looking statements to be inaccurate. Risks that may cause these forward-looking statements to be inaccurate include among others: market demand for our products may grow more slowly than our expectations or there may be a slower adoption rate for these products in new markets that we are targeting, no security technology can be guaranteed to be 100% secure, these products may not perform as expected, these products may not be available when expected, and the other risks detailed from time-to-time in our Securities and Exchange Commission filings and reports, including, but not limited to, our most recent Annual Report filed on Form 10-K/A and our subsequent Quarterly Reports filed on Form 10-Q. We do not intend to update the information contained in this press release.