Sep 17, 2009
New Artists Available on Plug-and-Play Flash Memory Cards Include Kanye West, Keith Urban, P!nk, and Latin Sensation Wisin Y Yandel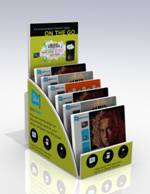 Milpitas, Calif., September 17, 2009 - SanDisk Corporation (NASDAQ: SNDK), the global leader in flash memory cards, today announced that its slotMusic™ entertainment cards are now available at mobile retail outlets across the United States, including Best Buy stores, stand-alone Best Buy Mobile stores and Cricket Communications, Inc. stores. SanDisk slotMusic offerings give consumers the ability to instantly load their favorite artist's album onto a mobile phone or other microSD™ compatible device for a fast and convenient listening experience.
SanDisk also announced that the slotMusic catalogue is set to expand with popular albums from a wide spectrum of artists, including Lady Gaga, Keith Urban, Black Eyed Peas, Incubus and P!nk.
The new slotMusic cards are now available in approximately 111 Best Buy Stores where they will be merchandised with media and in 39 Best Buy Mobile stand-alone stores that will carry six titles each on their accessory walls. The new cards have also made their way into 65 Cricket stores in Texas, Colorado, Arizona and other markets over the same time period. Title selection and availability vary by store.
"With their knowledgeable staff and vast selection of compatible phones, mobile retail stores allow consumers to experience how fast and easy it is to load slotMusic cards into their phone," said Hugh Cooney, senior director, business development, SanDisk.
"Our customers have always relied on their mobile phones for more than just communication, Cricket customers truly utilize their phone as a portable entertainment device," said Matt Stoiber, vice president and general manager, devices, Cricket. "slotMusic entertainment provides our customers with a new method of enjoying their favorite music on their Cricket phone."
New albums announced on slotMusic this month include:
Black Eyed Peas - The E.N.D.
Incubus - Monuments and Melodies
Kanye West - 808s & Heartbreak
Keith Urban - Defying Gravity
Kelly Clarkson - All I Ever Wanted
Keyshia Cole - A Different Me
Lady Gaga - The Fame
Nirvana - Nevermind
NOW That's What I Call Music, Vol. 31 - Compilation featuring Britney Spears, Lady Gaga, The Ting Tings & more
P!nk - Funhouse
slotMusic Best of the 70s, featuring hits from Cheap Trick, Blue Oyster Cult, Lou Reed, Santana & more
slotMusic Best of the 80s, featuring hits from Rick Springfield, Adam Ant, Bangles, Hall and Oates & more
Wisin y Yandel - La Revolucion
Introduced by SanDisk and associated record labels last fall, slotMusic cards contain full albums encoded as high-fidelity, DRM-free (non-restricted) MP3s.1 Many slotMusic cards also include liner notes, album art, videos and other bonus content. The cards' simple plug-and-play compatibility means consumers can quickly swap their favorite music content between any compatible device with a microSD slot, including mobile phones, MP3 players, car stereo systems and personal computers.
slotMusic cards, slotMusic players, and a host of accessories for both cards and players are also available at associated click-and-mortar including MyCricket.com, BestBuy.com, and slotMusic.org. Additionally, the music cards are sold in stores, including at Best Buy (general retail) stores throughout the United States.
About SanDisk
SanDisk Corporation is the global leader in flash memory cards, from research, manufacturing and product design to consumer branding and retail distribution. SanDisk's product portfolio includes flash memory cards for mobile phones, digital cameras and camcorders; digital audio/video players; USB flash drives for consumers and the enterprise; embedded memory for mobile devices; and solid state drives for computers. SanDisk is a Silicon Valley-based S&P 500 company, with more than half its sales outside the United States.
---
1 The slotMusic MP3-based music tracks play back at up to 320 kilobits per second (kbps).

SanDisk's product and executive images can be downloaded from:
http://www.sandisk.com/about-sandisk/media-kit.aspx
SanDisk's web site/home page address: http://www.sandisk.com
© 2009 SanDisk Corporation. SanDisk and the SanDisk logo are trademarks of SanDisk Corporation, registered in the United States and other countries. slotMusic is a trademark of SLOTmedia Group LLC. microSD is a trademark SD-3C LLC. Other brand names mentioned herein are for identification purposes only and may be the trademarks of their respective holder (s).
This press release contains certain forward-looking statements, including expectations for new product introductions, specifications, applications, markets, and customers that are based on our current expectations and involve numerous risks and uncertainties that may cause these forward-looking statements to be inaccurate. Risks that may cause these forward-looking statements to be inaccurate include among others: market demand for our products may grow more slowly than our expectations or there may be a slower adoption rate for these products in new markets that we are targeting, our products may not perform as expected or may not be available at the prices, in the regions or at the time expected and the other risks detailed from time-to-time in our Securities and Exchange Commission filings and reports, including, but not limited to, our most recent annual report on Form 10-K and our subsequent quarterly reports on Form 10-Q. We do not intend to update the information contained in this press release.