Sep 29, 2008
Best Buy Mobile and Verizon Wireless Stores Are First to Carry New 16GB Capacity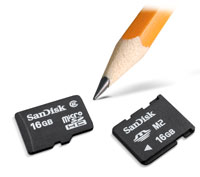 Milpitas, Calif. September 29, 2008 - SanDisk Corporation (NASDAQ: SNDK), a global leader in flash memory products, today announced it is bringing to market its 16GB* microSDHC™ and Memory Stick Micro™ (M2™) mobile memory cards - the world's largest removable storage capacity for mobile phones. Best Buy Mobile (NYSE: BBY) and Verizon Wireless (NYSE: VZ) stores are the first major retail outlets in the United States to carry the 16GB capacity.
The fingernail-sized 16GB memory cards allow consumers to "wake up" the many storage-intensive features offered by today's portable handsets such as music and video playback, high-definition digital camera functions, gaming and GPS applications.  In addition to the mobile phone, consumers can use the 16GB microSDHC card in a multitude of other devices, including video cameras, GPS receivers or MP3 players with a microSD™ slots such as SanDisk's Sansa® players.

"Handsets have become far more than just phones - they've become mobile jukeboxes, mobile offices, even mobile movie theaters," said Avi Greengart, Research Director for Mobile Devices at Current Analysis. "Flash memory cards have increased in storage capacity, but even an 8GB card may be too small for anyone with GPS map data, a few movies, a game or two, a presentation file and other applications. There is an acute need for more mobile storage capacity. 16GB gives consumers the ability to carry their digital content with them and still have room to do more with their mobile phones."

Expected Pricing, Availability and Product Information

SanDisk's 16GB microSDHC card has an MSRP of $99.99 and the 16GB M2 card has an MSRP of $129.99. The new 16GB capacity will be available at Best Buy Mobile stores in October and Verizon Wireless stores in November - the only major retailers in the United States to carry this mobile storage capacity in 2008.

MicroSD cards are designed for slot-equipped legacy mobile phones and can hold a maximum capacity of 2GB. Today's microSDHC cards are available in 4GB, 8GB and now 16GB, are ideal for newer mobile phone models, most of which are compatible with these higher capacity cards. The Memory Stick Micro (M2) cards are designed for Sony Ericsson's new generation of mobile phones, all of which are compatible with the 2GB, 4GB, 8GB and 16GB capacity levels. SanDisk's 16GB mobile memory cards come with a five-year limited warranty.

To learn more about SanDisk's Wake Up Your Phone™ initiative, which educates consumers about the benefits of using memory cards in their mobile phone slots, visit www.wakeupyourphone.com. For more information about SanDisk's mobile phone memory products, see www.sandisk.com/mobile.
About SanDisk
SanDisk Corporation, the inventor and world's largest supplier of flash storage cards, is a global leader in flash memory - from research, manufacturing and product design to consumer branding and retail distribution. SanDisk's product portfolio includes flash memory cards for mobile phones, digital cameras and camcorders; Sansa® digital audio/video players; USB flash drives for consumers and the enterprise; embedded memory for mobile devices; and solid state drives for computers. SanDisk (www.sandisk.com/corporate) is a Silicon Valley-based S&P 500 company, with more than half of its sales outside the United States.
---
*1 gigabyte (GB) = 1 billion bytes.

SanDisk's product and executive images can be downloaded from http://www.sandisk.com/corporate/media.asp

SanDisk and the SanDisk logo are trademarks of SanDisk Corporation, registered in the United States and other countries. Wake Up Your Phone is a trademark of SanDisk Corporation. Memory Stick Micro and M2 are trademarks of Sony Corporation. microSD and SDHC are trademarks. Other brand names mentioned herein are for identification purposes only and may be the trademarks of their respective holder (s).

This press release contains certain forward-looking statements, including expectations for new product introductions, applications, markets, and customers that are based on our current expectations and involve numerous risks and uncertainties that may cause these forward-looking statements to be inaccurate. Risks that may cause these forward-looking statements to be inaccurate include among others: there may be a slower adoption rate for these products in new markets that we are targeting or market demand for these products may grow more slowly than our expectations, these products may not perform as expected or may not be available at the prices, in the regions, in the capacities or at the time expected, and the other risks detailed from time-to-time in our Securities and Exchange Commission filings and reports, including, but not limited to, our most recent annual report on Form 10-K and our subsequent quarterly reports on Form 10-Q. We do not intend to update the information contained in this press release.