Sep 16, 2008
Video Contest to Award $10,000 and a Free Trip to Las Vegas to the Best Overall Entrant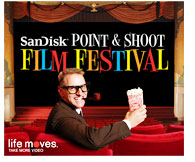 MILPITAS, Calif., Sept. 16, 2008 - SanDisk Corporation (NASDAQ: SNDK), today announced the debut of its first SanDisk Point & Shoot Film Festival1, an online video contest on YouTube to find and display the most compelling user-generated videos taken on consumer point-and-shoot digital cameras. Beginning today, entrants may upload their videos to YouTube by visiting www.youtube.com/sandisk
 Film festival contest entries will be considered in the following five categories:  
Kid Moves
Pet Moves
Dance Moves
Action Moves
Comedy Moves
The top 200 entrants to the contest will receive a SanDisk Ultra® II 4GB2 SDHC™ card, allowing them to easily capture more video using their digital point-and-shoot camera. The best video entrant in each category will be awarded $1,000 and the overall grand prize for the best video will receive $10,000 (including the $1,000 category prize) and a trip to Las Vegas.

"Consumers are capturing more video than ever, and as they do, they're discovering how easy and fun it is to shoot home movies on less expensive, smaller digital devices," said Tanya Chuang, global retail marketing director for SanDisk. "The SanDisk Point & Shoot Film Festival aims to educate and encourage a larger base of consumers to take more video and unleash the power of their point-and-shoot digital cameras. By utilizing YouTube for this contest, we're providing a highly-visible way for consumers to show off how 'life moves.' We look forward to reviewing the submissions during the next several months."

Contest entrants are not required to create new videos for the SanDisk Point & Shoot Film Festival. Existing and newly-shot videos that fit into the following criteria may be entered for consideration: 
Participants must be 18 years of age or older and a YouTube member to enter.
Entries are open to legal residents of the 50 United States and District of Columbia only.
All videos must be shot on a digital point-and-shoot camera, and they must be less than two minutes in length.
All videos must be taken in one continuous shot.
Participants don't need to select a category when entering, but videos will be judged according to set categories. Videos are eligible to win in multiple categories
The deadline for contest submissions will close at 11:59:59pm ET on November 10, 2008. The top 20 film festival finalists and five alternatives will be posted to YouTube for public voting from November 18, 2008 - December 8, 2008. Winners for each category, including the overall winner, will be selected by the YouTube community. Category finalists and the overall winner are expected to be announced on December 15, 2008.

For more information and to enter the contest please visit www.youtube.com/sandisk or www.sandisk.com/lifemoves

About SanDisk
SanDisk Corporation, the inventor and world's largest supplier of flash storage cards, is a global leader in flash memory - from research, manufacturing and product design to consumer branding and retail distribution. SanDisk's production portfolio includes audio/video players; USB flash drives for consumers and the enterprise; embedded memory for mobile devices; and solid state drives for computers. SanDisk (www.sandisk.com/corporate) is a Silicon Valley-based S&P 500 company, with more than half its sales outside of the United States.
---
1Additional terms and conditions for the contest can be viewed on
www.sandisk.com/lifemoves/officialrules.html

21 gigabyte (GB) = 1 billion bytes.

SanDisk's product and executive images can be downloaded from
http://www.sandisk.com/corporate/media.asp

SanDisk's product and executive images can be downloaded from http://www.sandisk.com
 
SanDisk, the SanDisk logo and SanDisk Ultra are trademarks of SanDisk Corporation registered in the United States and other countries. SD and SDHC are trademarks. Other brand names mentioned herein are for identification purposes only and may be trademarks of their respective holder(s).