Jul 30, 2008
?MILPITAS, CALIFORNIA, July 30, 2008 - Students heading back to school this year have more technology needs than ever. SanDisk Corporation (NASDAQ: SNDK), a world leader in flash memory, is ready to help with exciting new tools that make the return to class more rewarding and fun. Among the many choices from SanDisk: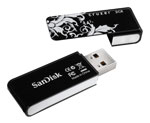 SanDisk Cruzer Pattern USB flash drive: Stylish and affordable, the SanDisk Cruzer® Pattern™ is the perfect companion for storing lots of digital school work, as well as music, photos and video clips. The design includes a clip for easily attaching SanDisk Cruzer Pattern to a pocket, bag or backpack strap. Includes U3 smart technology (www.U3.com) for running applications directly from the drive and for providing password protection. Available now in gray and black in two capacities: 1 gigabyte (GB)1 for a list price of $9.99 and 2 GB at $14.99.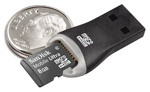 SanDisk Mobile Ultra cards: Most students aren't allowed to use mobile phones during class, but eventually the bell rings and school is over for the day. Then it's time to "Wake Up Your Phone"™ with SanDisk® Mobile Ultra™ - the industry's first premium mobile phone memory card. The SanDisk Mobile Ultra line delivers the capacity for enjoying lots of music, photos and video on your phone, as well as fast side-loading speeds for moving digital files to and from the card and your computer. There's also a 10-year limited warranty, and the cards come with a sleek little MobileMate™ Micro Reader that plugs into any USB 2.0 port. Available now in three formats: microSD™ at 2GB; microSDHC™ at 4GB and 8GB; and Memory Stick Micro™ M2 at 2G, 4GB and 8GB. List prices range from $34.99 to $129.99.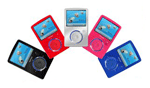 SanDisk Sansa Fuze MP3 player: You'll never run out of storage space for music, photos and video with the SanDisk Sansa® Fuze™ player. That's because this multi-faceted digital media player includes a microSD™ card slot for quickly expanding capacity by adding a microSD card. If your digital library is big enough, you can even spread it across several cards. In addition to playing music, audio books and video clips, the Sansa Fuze player displays photos, has a built-in FM radio, and offers a voice recorder to capture thoughts on the fly. The bright 1.9" color screen makes it easy to navigate, or watch videos in landscape mode. Available now in five colors and three capacities: 2 GB for a list price of $79.99; 4GB at $99.99 and 8GB at $129.99.

SanDisk Ultra II cards: Whether it's the big Friday night football game or the school play, students take lots of pictures. SanDisk Ultra® II cards are designed to deliver faster performance and offer more storage for today's versatile point-and-shoot digital cameras and camcorders. The higher capacities also are well-suited for video use. Fast read-write speeds - up to 15 megabytes per second - for the SanDisk Ultra II line also minimize waiting time when you're copying photos and video clips from the card to a computer. Available now in four formats - SD®, SDHC®, CompactFlash® and Memory Stick PRO Duo™ - in capacities ranging from 1 GB to 16 GB, at list prices from $24.99 to $139.99.
About SanDisk
SanDisk Corporation, the inventor and world's largest supplier of flash storage cards, is a global leader in flash memory - from research, manufacturing and product design to consumer branding and retail distribution. SanDisk's product portfolio includes flash memory cards for mobile phones, digital cameras and camcorders; digital audio/video players; USB flash drives for consumers and the enterprise; embedded memory for mobile devices; and solid state drives for computers. SanDisk (www.sandisk.com/corporate) is a Silicon Valley-based S&P 500 company, with more than half its sales outside the United States.

1 1 megabyte (MB) = 1 million bytes; 1 gigabyte (GB) = 1 billion bytes.
SanDisk's web site/home page address: http://www.sandisk.com
SanDisk's product and executive images can be downloaded from http://www.sandisk.com/corporate/mediakit/
SanDisk, the SanDisk logo, CompactFlash, Cruzer, MobileMate, SanDisk Ultra and Sansa are trademarks of SanDisk Corporation, registered in the U.S. and other countries. SanDisk Mobile Ultra, Sansa Fuze and Wake Up Your Phone are trademarks of SanDisk Corporation. SDHC, microSD and microSDHC are trademarks. Memory Stick PRO Duo and Memory Stick Micro M2 are trademarks of Sony Corporation. Other brand names mentioned herein are for identification purposes only and may be trademarks of their respective holder(s).
This press release contains certain forward-looking statements, including specifications, applications, markets, pricing, customer acceptance and customers that are based on our current expectations and involve numerous risks and uncertainties that may cause these forward-looking statements to be inaccurate. Risks that may cause these forward-looking statements to be inaccurate include among others: market demand for our products may grow more slowly than our expectations, there may be a slower adoption rate for these products in new markets that we are targeting, our products may not be available at the prices, dates or in the geographies we anticipate, our products may not perform as expected, and the other risks detailed from time-to-time under the caption "Risk Factors" and elsewhere in our Securities and Exchange Commission filings and reports, including, but not limited to, Form 10-K and our quarterly reports on Form 10-Q. We do not intend to update the information contained in this press release.