May 21, 2008
MILPITAS, CALIFORNIA, May 21, 2008 - No more ugly ties for Dad on Father's Day, or unwanted wristwatches for new graduates! SanDisk Corporation (NASDAQ:SNDK) welcomes "Dads & Grads" gift-giving season with exciting new products from a world leader in flash memory. Among the many choices from SanDisk®: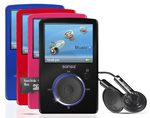 SanDisk Sansa Fuze MP3 player: Packing a long list of features into a tiny package, the multi-faced Sansa® Fuze™ plays music, audio books and video clips; displays photos; has a built-in FM radio; and offers a voice recorder to capture thoughts on the fly. The bright 1.9" color screen makes it easy to navigate, or watch videos in landscape mode. There's also a microSD™ card slot for quickly expanding capacity. With surprisingly big sound from a device smaller than a credit card, the Sansa Fuze is available now in five colors and three capacities: 2 gigabytes1 (GB) for a list price of $79.99; 4GB at $99.99 and 8GB at $129.99 ( www.sandisk.com/SansaFuze).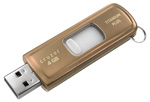 SanDisk Cruzer Titanium Plus USB flash drive: SanDisk brings something new to USB flash drives - secure automatic online backup.2 Any file copied to the Cruzer® Titanium Plus is automatically backed up to a password-protected online account. If the drive is lost or stolen, or you simply forget to bring it with you, retrieving that important file requires nothing more than signing into your backup account from any computer connected to the Internet.3 Available now at 4GB capacity for a list price of $49.99 ( www.sandisk.com/CruzerTitaniumPlus).

SanDisk Video HD cards: Take the mystery out of selecting the right card for the new generation of standard and high-definition camcorders that use flash memory instead of tape or disks with SanDisk Video HD™ cards, which conveniently displays the minutes of video recording time on its label, as well as offering fast transfer of recordings to computers for editing. The cards are available now in 60-minute4 (4GB) and 120-minute4 (8GB) times - on the HD Standard setting - in both the SDHC™ and Memory Stick PRO Duo™ formats. Suggested retail prices are $79.99 and $139.99, respectively, for the 4GB and 8GB SDHC cards, and $79.99 and $149.99, respectively, for the 4GB and 8GB Memory Stick PRO Duo cards ( www.sandisk.com/VideoHD).
SanDisk Mobile Ultra cards: Wake up your Dad's or grad's phone with SanDisk® Mobile Ultra™ - the industry's first premium mobile phone memory card. Mobile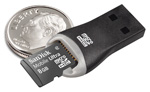 Ultra offers fast side-loading speeds for quickly moving digital files to and from the card and your computer. There's also a 10-year limited warranty, and the cards come with a MobileMate™ Micro Reader that plugs into any USB 2.0 port. Available in June in three formats: microSD™ at 2GB; microSDHC™ at 4GB and 8GB; and Memory Stick Micro M2 at 2G, 4GB and 8GB. Manufacturer's suggested retail prices range from $34.99 to $129.99. An 8GB Mobile Ultra card can hold more than 1,000 digital songs, and more than 1,200 high-resolution photos, and up to 21 hours of high-quality MPEG 4 video5    ( www.sandisk.com/SanDiskMobileUltra).
About SanDisk
SanDisk Corporation, the inventor and world's largest supplier of flash storage cards, is a global leader in flash memory - from research, manufacturing and product design to consumer branding and retail distribution. SanDisk's product portfolio includes flash memory cards for mobile phones, digital cameras and camcorders; digital audio/video players; USB flash drives for consumers and the enterprise; embedded memory for mobile devices; and solid state drives for computers. SanDisk (www.sandisk.com/corporate) is a Silicon Valley-based S&P 500 company, with more than half its sales outside the United States.
---
1 1 megabyte (MB) = 1 million bytes; 1 gigabyte (GB) = 1 billion bytes.
2 Free online backup service available from BeInSync Ltd. for six months. Subscription fees apply thereafter.
3 Requires subscription.
4 Actual recording time will vary depending upon the model, resolution, compression and content. Recording based on internal testing.
5 Approximation for music is based on 4-minute songs at 128 kbps MP3; for photos is based on 2MP camera; for video is based on MPEG-4 video at 384 kbps. Actual number of photos may vary based on phone model, resolution and compression. Actual video time may vary based on resolution and compression.
SanDisk's web site/home page address: http://www.sandisk.com  
SanDisk's product and executive images can be downloaded from
http://www.sandisk.com/corporate/mediakit/
SanDisk, the SanDisk logo, Cruzer, MobileMate and Sansa are trademarks of SanDisk Corporation, registered in the U.S. and other countries. SanDisk Mobile Ultra, SanDisk Video HD, Sansa Fuze and Wake Up Your Phone are trademarks of SanDisk Corporation. SDHC, microSD and microSDHC are trademarks. Memory Stick PRO Duo and Memory Stick Micro M2 are trademarks of Sony Corporation. Other brand names mentioned herein are for identification purposes only and may be trademarks of their respective holder(s).
This press release contains certain forward-looking statements, including expectations for new product introductions, specifications, applications, markets, pricing, customer acceptance and customers that are based on our current expectations and involve numerous risks and uncertainties that may cause these forward-looking statements to be inaccurate. Risks that may cause these forward-looking statements to be inaccurate include among others: market demand for our products may grow more slowly than our expectations, there may be a slower adoption rate for these products in new markets that we are targeting, our products may not be available at the prices, dates or in the geographies we anticipate, our products may not perform as expected, and the other risks detailed from time-to-time under the caption "Risk Factors" and elsewhere in our Securities and Exchange Commission filings and reports, including, but not limited to, Form 10-K and our quarterly reports on Form 10-Q. We do not intend to update the information contained in this press release.