Mar 4, 2008
SanDisk FlashBack Adapter Turns SD Memory Card into Convenient and Protected Backup Solution Inside Laptops
HANNOVER, GERMANY, March 4, 2008 - You're at a conference and someone spills coffee on your laptop PC, shorting out the system and cutting you off from your presentation and notes. Or your computer slips out of your hands and crashes to the floor. These are moments that everyone dreads, but today SanDisk Corporation (NASDAQ: SNDK) unveiled a rescue option - a lifeline for laptop users called the SanDisk® FlashBack™ Adapter. This unique device fits into the ExpressCard™ slot of your PC, automatically and continuously backing up and encrypting critical data onto an SD™ flash memory card.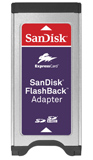 Whether your PC suffers a system failure or a full hard drive crash, the SanDisk FlashBack Adapter allows you to access your content safely from the memory card. Designed for the millions of newer notebook computers that have an ExpressCard slot, the SanDisk FlashBack Adapter offers a reliable, easy-to-use system to protect critical files by copying them automatically and instantly to an optional SD or SDHC™ memory card of any capacity. And with the backup card nesting completely inside the laptop, the system is literally out of sight. Nothing protrudes from the PC and nothing needs to be attached to any other port. 

The SanDisk FlashBack Adapter is being demonstrated this week at the annual CeBIT electronics show, at Booth D59, Hall 26 in the Hannover convention center. To use the SanDisk FlashBack Adapter, purchase an SD or SDHC memory card of any capacity and slide the card with the adapter into your computer's ExpressCard slot, where it can be left for continuous backup protection.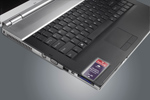 The adapter comes with easy-to-set up software for Windows-based laptops. Once installed, users pre-select backup sources by individual files, folders and/or file types. Then the device backs up and encrypts the user's data, images, music and other files - automatically and continuously - from the computer's hard drive to the memory card. Backup occurs as soon as there is a change to a designated file, or when a file is added or deleted. There is no need for scheduling backups and no need for further user intervention. Also, the application has a handy screen indicator to show the amount of storage available, along with a taskbar icon that displays the ongoing backup status. 

Restoring individual files, complete folders or the complete set of backed-up data is easy. Just open the application, log in to access, select the encrypted files on the memory card and indicate the restore destination. Voila - your critical files are back and they are within the same folder structure as the originals. Also, you can restore data from the memory card on any PC that uses Windows 2000, Windows XP or Windows Vista and has an SD memory card reader. The SanDisk FlashBack Adapter is not needed for this process. 

"This is a 'set it and forget it' solution for every laptop user with an ExpressCard slot who wants to be protected from unintended data loss," said Matthijs Hutten, SanDisk's senior product marketing manager for accessories. "We all know that we should frequently make backups of our critical files. But most of us don't get around to it because it seems like too much of an effort, or we simply forget to do it. This practical solution does the job and does it automatically. So if your PC suffers a breakdown, you can flash back to your latest files wherever you are. The SanDisk FlashBack Adapter truly gives you peace of mind. 

For protection against laptop theft and to easily share backed-up files, the SanDisk FlashBack Adapter also offers users an option for backing up content online. This service is provided by BeInSync Inc. for a nominal fee and in addition to local storage on an SD or SDHC memory card (more information at http://www.beinsync.com).
Pricing and Availability
The SanDisk FlashBack Adapter includes a two-year warranty, a mini-CD containing the backup software and a user's guide. The product will start shipping worldwide in Q2 and carries a suggested retail price of $29.99 (memory card sold separately). 

For more information on SanDisk's entire line of award-winning memory cards and accessories, visit http://www.sandisk.com. 

SanDisk Corporation, the inventor and world's largest supplier of flash storage cards, is a global leader in flash memory - from research, manufacturing and product design to consumer branding and retail distribution. SanDisk's product portfolio includes flash memory cards for mobile phones, digital cameras and camcorders; digital audio/video players; USB flash drives for consumers and the enterprise; embedded memory for mobile devices; and solid state drives for computers. SanDisk (http://www.sandisk.com/corporate) is a Silicon Valley-based S&P 500 company, with more than half its sales outside the United States.
---
SanDisk's web site/home page address: http://www.sandisk.com  
SanDisk's product and executive images can be downloaded from http://www.sandisk.com/corporate/mediakit/ 

SanDisk and the SanDisk logo are trademarks of SanDisk Corporation, registered in the United States and other countries. SanDisk FlashBack is a trademark of SanDisk Corporation. SD and SDHC are trademarks. ExpressCard is a trademark of PCMCIA. Other brand names mentioned herein are for identification purposes only and may be the trademarks of their respective holder(s). This press release contains certain forward-looking statements, including expectations for new product introductions, specifications, applications, markets, and customers that are based on our current expectations and involve numerous risks and uncertainties that may cause these forward-looking statements to be inaccurate. Risks that may cause these forward-looking statements to be inaccurate include among others: this product may not perform as expected, this product may not be available when expected or at the price expected, and the other risks detailed from time-to-time in our Securities and Exchange Commission filings and reports, including, but not limited to, Form 10-K and our quarterly reports on Form 10-Q. We do not intend to update the information contained in this press release.