Nov 13, 2007
SanDisk Vaulter Disk, a PCI Express Module, Wins
2008 Best of Innovations Award From Consumer Electronics Association
NEW YORK, N.Y., November 13, 2007 - SanDisk Corporation (NASDAQ: SNDK) today unveiled a solid-state storage solution that works in conjunction with a PC's hard drive to store and launch the computer's operating system and software applications.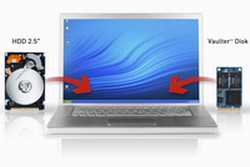 The new SanDisk Vaulter™ Disk tag-teams with the hard drive to provide enhanced performance over a PC that has only a hard drive. Both Vaulter and the hard drive are integrated into the PC and operate simultaneously, while maintaining a low cost per gigabyte.
The SanDisk Vaulter Disk was honored during a press conference at CES Unveiled, where the Consumer Electronics Association (CEA) announced its 2008 Innovations Design and Engineering awards for products that will debut at International CES® (Jan. 7-10) in Las Vegas. Judges named the SanDisk Vaulter the Best of Innovations 2008 in the Enabling Technologies category. Vaulter and other products will be on display during CES in the SanDisk booth (South Hall 3, #30768).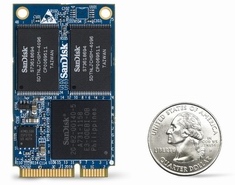 With SanDisk's Vaulter Disk, which is a flash-based PCI Express module, both laptop and desktop computer manufacturers are able to harness the speed of embedded flash memory for frequently accessed files while continuing to use a spinning hard drive for bulk storage of less frequently accessed data. The Vaulter Disk requires only enough memory to host the computer's operating system and selected optional user data that is benefited by the faster access time using flash memory. The hard drive stores files, user-generated content and applications that do not require or benefit from faster seek times. The two drives operate in parallel, thereby increasing the overall speed and performance of the PC.
The SanDisk Vaulter Disk will be offered to original equipment manufacturers (OEMs) early next year in capacities of from 8 gigabytes (GB)1 to 16GB. "This system solution brings SanDisk's flash performance benefits to the price-sensitive consumer who needs high-capacity storage," said Doreet Oren, SanDisk director of product marketing for the computing solutions division. "While we make other products for the PC market, Vaulter allows us to expand our offerings," she added.
SanDisk Vaulter Disk accelerates performance by pre-controlling the distribution of storage data between itself and a high-capacity hard drive. This parallel activity increases overall user responsiveness over a hard drive-only configuration.
"SanDisk Vaulter Disk consistently boosts user responsiveness by taking advantage of the best native characteristics of a flash-based module and a hard drive," said Tavi Salomon, Vaulter product manager at SanDisk "It is the parallel operation of both Vaulter and the hard disk that provides an affordable solution for consumer PC users who will benefit from flash memory performance."
The SanDisk Vaulter Disk's storage concept, for which patents have been applied, transparently speeds up data retrieval for boot and application load operations, as well as unexpected user access to new files. With SanDisk Vaulter Disk, Salomon explained, there is faster response time when a user randomly accesses many small files for repeated operations, such as opening applications, and for unexpected behavior, such as retrieving new applications or entries on the Internet.
SanDisk is the original inventor of flash storage cards and is the world's largest supplier of flash data storage card products, using its patented, high-density flash memory and controller technology. SanDisk is headquartered in Milpitas, California, and has operations worldwide, with more than half its sales outside the U.S.
---
1 1 gigabyte (GB) = 1 billion bytes.
SanDisk's product and executive images can be downloaded from http://www.sandisk.com/corporate/media.asp
SanDisk's web site/home page address: http://www.sandisk.com  
SanDisk and the SanDisk logo are trademarks of SanDisk Corporation, registered in the United States and other countries. Vaulter is a trademark of SanDisk Corporation. Other brand names mentioned herein are for identification purposes only and may be the trademarks of their respective holder (s).
This press release contains certain forward-looking statements, including expectations for new product introductions, specifications, applications and markets that are based on our current expectations and involve numerous risks and uncertainties that may cause these forward-looking statements to be inaccurate. Risks that may cause these forward-looking statements to be inaccurate include among others: these products may not perform as expected, these products may not be available when expected, and the other risks detailed from time-to-time in our Securities and Exchange Commission filings and reports, including, but not limited to, Form 10-K and our quarterly reports on Form 10-Q. We do not intend to update the information contained in this press release.