Oct 22, 2007
A Smart, Simple & Seamless Way to Easily Take Videos from a PC to Nearly Any TV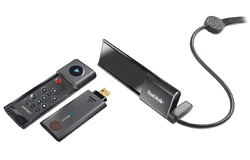 MILPITAS, Calif., October 22, 2007- Finally, there's an exceptionally easy way to move video from your PC to your TV. SanDisk® Corporation (NASDAQ:SNDK), a leading provider of portable audio/video players, today announced the U.S. availability of the Sansa® TakeTV™ video player, a breakthrough media player that gives consumers a smart, convenient and affordable way to move video content from their PC to the TV, where it belongs.

"Sansa TakeTV is the most easy-to-use, straightforward solution for watching downloaded personal video content and other shows in the comfort of the living room," said Daniel Schreiber, senior vice president and general manager for SanDisk's audio/video business unit. "No confusing wireless network set-up, no wires running across the living room and no cumbersome burning of DVDs. Just use the Sansa TakeTV device to move your favorite video content over to your TV, and enjoy it on the big screen with family and friends."

Research shows that TV is the ultimate viewing experience for videos, including TV content and movies. At the same time, the PC has become the foremost vehicle for searching and downloading digital content. Yet to date, solutions that allow you to download on the one and watch on the other have been thorny and complex.

Added Schreiber: "Years ago, transferring content from one PC to another was awkward too. SanDisk made it seamless through our Cruzer USB flash drives. We challenged ourselves to bring this same simplicity to transferring video from the PC to the TV. The result is Sansa TakeTV - a best-in-class product that smoothly bridges the gap between these two ecosystems."

"Sansa TakeTV is a great addition to SanDisk's audio/video line up and a natural extension of their overall business strategy," said Danielle Levitas, vice president consumer markets and new media at IDC. "SanDisk is a global leader in USB flash drives, which solved the challenge of moving data from PC to PC. With Sansa TakeTV, the company has created a solution for today's dilemma, moving digital video from your PC back to the TV."

Using the Sansa TakeTV1 video player is as simple as using a USB flash drive: Simply drag video files to the TakeTV player, and then slip the player into its TV cradle. The cradle plugs into the standard A/V sockets of nearly every existing TV. Next, consumers are shown a simple, on-screen guide where they can quickly select the content they've stored on the Sansa TakeTV player, using the included remote control2.

The sleek Sansa TakeTV video player will work with new and legacy TV systems via standard AV composite inputs or S-Video. With flash memory at its core, the device is small, durable and easily portable.

Sansa TakeTV supports a variety of video formats, including DivX®, XVID and MPEG-43. The Sansa TakeTV player is DivX Certified® for Home Theater profile. The player connects to any PC via a USB connector, and works with Windows Vista, Windows XP and the latest versions of Mac and Linux.

SanDisk's Sansa TakeTV flash memory-based player comes in a 4 gigabyte4 (GB) capacity, which holds approximately five hours of video5, and 8GB, which can hold up to ten hours of video. It is available today for MSRPs of $99.99 and $149.99 respectively.

Sansa TakeTV was announced today in conjunction with Fanfare™ Public BETA, a new digital entertainment content distribution platform by SanDisk. The Fanfare BETA web service works with Sansa TakeTV device, which gives consumers access to a growing list of TV shows that can be downloaded to the Sansa TakeTV and watched on nearly any TV, at any time. (For more details about Fanfare™ go to: www.fanfare.com.)

SanDisk first announced the USBTV concept at CES in January 2007. Now branded "Sansa TakeTV," the device is available for sale today online in the U.S., with other regions of the world to follow in 2008. For more information on Sansa TakeTV go to www.take.tv.

SanDisk is the original inventor of flash storage cards and is the world's largest supplier of flash data storage card products, using its patented, high-density flash memory and controller technology. The Company has been the second largest manufacturer of MP3 players in the United States since November 2005. SanDisk is headquartered in Milpitas, Calif., and has operations worldwide, with more than half its sales outside the U.S.
---
1 Formerly referred to as "USBTV"
2 The included remote control comes with a replaceable battery.
3 With a resolution of up to 720x576 (D1)
4 One gigabyte (GB) = 1 billion bytes. Some of the listed capacity is used for formatting and other functions, and thus is not available for data storage.
5 Video capacity based on MPEG-4 1.5-Mbps video at 720x480 pixel resolution combined with 128-Kbps audio. Actual capacity varies by content. NOTE: For home and personal use. This product is intended to be used for playback, for your home and personal enjoyment. Copying and commercial use of copyrighted material without permission of the copyright owner may be prohibited by law. Use of your TakeTV device in compliance with all copyright and applicable intellectual property laws remains the responsibility of the user of the product.

SanDisk's product and executive images can be downloaded from http://www.sandisk.com/corporate/media.asp
SanDisk's web site/home page address: http://www.sandisk.com

SanDisk, the SanDisk logo and Sansa are trademarks of SanDisk Corporation, registered in the United States and other countries. TakeTV and Fanfare are trademarks of SanDisk Corporation. Other brand names mentioned herein are for identification purposes only and may be the trademarks of their respective holder (s).

This press release contains certain forward-looking statements, including expectations for new product introductions, applications, markets, and customers that are based on our current expectations and involve numerous risks and uncertainties that may cause these forward-looking statements to be inaccurate. Risks that may cause these forward-looking statements to be inaccurate include among others: market demand for our products may grow more slowly than our expectations or there may be a slower adoption rate for these products in new markets that we are targeting, these products may not perform as expected, these products may not be available when expected or at the prices expected, and the other risks detailed from time-to-time in our Securities and Exchange Commission filings and reports, including, but not limited to, our Form 10-K and our quarterly reports on Form 10-Q. We do not intend to update the information contained in this press release.
| | |
| --- | --- |
| MEDIA CONTACT: | SanDisk Corporation |
|   | Carmella Lyman |
|   | (707) 256-3834 |
|   | carm@lymanpr.com |