Mar 16, 2007
Top-of-the-Line Cards Have Faster Read and Write Speeds Than Standard Cards
As Well As TrustedFlash Technology Designed for Downloading Premium Content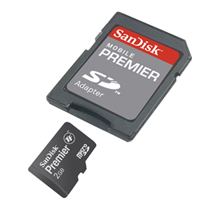 HANNOVER, GERMANY, March 16, 2007
- SanDisk® Corporation (NASDAQ:SNDK) today introduced SanDisk Mobile Premier, a new line of performance-oriented microSD
™
memory cards aimed specifically at the mobile phone market. The cards allow consumers to quickly transfer content to and from their mobile phones as well as increase storage for videos, music, ring tones, digital images and other files.  Also, SanDisk Mobile Premier cards feature SanDisk's TrustedFlash
™
technology, which allows network operators to sell premium content that can be downloaded directly to mobile phones, stored on the cards and played on other TrustedFlash-enabled devices authorized by the network provider.
The announcement was made at the CeBIT Show, where SanDisk is exhibiting its products in Hall 23, Stand B28.
SanDisk Mobile Premier microSD cards will be offered in 1- and 2-gigabyte (GB) 1 capacities, with suggested retail prices of $44.99 and $69.99, respectively.  The fingernail-size cards, which come with an adapter to fit standard SD ™ card slots, are slated to be available this spring at many of the more than 200,000 stores worldwide where SanDisk products are sold.
"SanDisk Mobile Premier, our top-of-the-line mobile card, is designed to take advantage of the latest and greatest features of new handsets that have built-in digital photo and video capture, MP3 music playback and other memory-intensive elements including new security capabilities," said Jeff Kost, vice president and general manager of the Mobile Consumer Solutions division at SanDisk. "This year, according to analysts' projections, nearly half of all mobile phones sold are expected to have card slots, and the microSD has become the preferred format for manufacturers."
 Here are the key advantages of SanDisk Mobile Premier cards:
 Using a card reader or cable attached to a PC, consumers can side-load music tracks, images and videos to/from a SanDisk Mobile Premier card more rapidly than with a standard card.  Read/write speeds are 10 and 9 megabytes (MB) per second, respectively 2.

Since most mobile phones have limited on-board memory, the SanDisk Mobile Premier card will allow users to store more songs, still images, videos and other content on their handsets. For example, a 2GB Mobile Premier card can store 500 MP3 songs for about 32 hours of playback time 3.
All SanDisk Mobile Premier cards are based on the TrustedFlash platform, which can allow users to play back premium content on any TrustedFlash enabled device within the network. Mobile network operators and other content providers can use TrustedFlash technology to produce preloaded memory cards as well as store content, such as music and ring tones, that is purchased online.
Among supporters of the TrustedFlash platform, the i-mode Alliance, which is comprised of network operators outside of Japan, has endorsed the technology for its members. And Bouygues Telecom, a network operator in France, is leading the implementation of TrustedFlash-enabled products in Europe by bundling SanDisk Mobile Premier cards with new handsets.  Customers of i-mode Alliance members using TrustedFlash technology can access entertainment and other content from a variety of providers.      
The TrustedFlash platform can be used in flash memory cards, USB flash drives and mobile phone SIM cards.  It provides security solutions for digital entertainment and e-commerce applications, as well as for enterprise and personal data. Created by SanDisk, TrustedFlash technology extends the trusted environment from the device to removable memory -- allowing rights holders, mobile network operators, application developers and device manufacturers the ability to offer consumers content portability among TrustedFlash-enabled devices within an operator's network or environment.  
SanDisk is the original inventor of flash storage cards and is the world's largest supplier of flash data storage card products, using its patented, high-density flash memory and controller technology. SanDisk is headquartered in Milpitas, California, and has operations worldwide, with more than half its sales outside the U.S.
---
1 1 gigabyte (GB) = 1 billion bytes.
2  Based on SanDisk internal testing; performance may be lower depending upon host device. 1 megabyte (MB) = 1 million bytes.
3 Approximation based on 4 minute songs at 128 kbps MP3.
4   i-mode is available to roaming users in the USA but is not provided by any mobile operator in the USA.
SanDisk's product and executive images can be downloaded from
SanDisk and the SanDisk logo are trademarks of SanDisk Corporation, registered in the United States and other countries. TrustedFlash is a trademark of SanDisk Corporation.  SD and microSD are trademarks.     i-mode is a trademark or registered trademark of NTT DoCoMo, Inc. in Japan and other countries. Other brand names mentioned herein are for identification purposes only and may be the trademarks of their respective holder (s).
This press release contains certain forward-looking statements, including expectations for new product introductions, applications, markets, and customers that are based on our current expectations and involve numerous risks and uncertainties that may cause these forward-looking statements to be inaccurate. Risks that may cause these forward-looking statements to be inaccurate include among others: market demand for our products may grow more slowly than our expectations or there may be a slower adoption rate for these products in new markets that we are targeting, no security technology can be guaranteed to be 100% secure, and the other risks detailed from time-to-time in our Securities and Exchange Commission filings and reports, including, but not limited to, Form 10-K and our quarterly reports on Form 10-Q. We do not intend to update the information contained in this press release.
SanDisk Corporation Ken Castle (408) 801-2195 Ken.Castle@sandisk.com