Jan 8, 2007
Innovative New USBTV Platform Offers Simple Link Between Web and Home TV
and Creates Opportunities for Consumer Electronics and Content Companies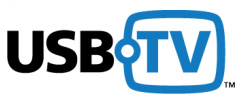 LAS VEGAS, NEVADA, Jan. 8, 2007 - SanDisk® Corporation (NASDAQ:SNDK) today introduced USBTV, a new, industry-wide initiative that is expected to enable consumers to easily move digital content from their PCs to their televisions for viewing in full, big-screen comfort. The announcement was made during a press conference at the Consumer Electronics Show (CES), where the platform technology was demonstrated and several industry leaders announced their support for USBTV.

"We believe that USBTV represents an exciting new category of flash-based products that will bring digital downloading of video to a broad spectrum of new consumers who prefer viewing on their TV sets rather than on a PC screen," said Eli Harari, SanDisk CEO. "USBTV has the potential to become an industry-transforming category as significant as the introduction of the DVD and VHS players, because in the convergence of the Web and home entertainment, USBTV solves in a simple, elegant way the 'last 10 feet' of the content portability problem in the home between the PC and the TV," he said.

Also today, SanDisk announced the creation of the USBTV Forum to stimulate industry-wide growth among consumer electronics manufacturers, TV and display manufacturers, content providers and related technology companies.

USBTV is a powerful and innovative new platform that will enable consumers to transport downloaded digital content from a personal computer, by using a small flash memory-enabled media player, and plug-and-play it directly on virtually any TV.
While more consumers are watching video on the Internet, their preferred entertainment center remains the TV. Once they've taken the time to download and store personal videos and movies on their PC, consumers often want to enjoy that content with others in the living room. Today this process requires burning blank DVD optical media so that it can be played back on the DVD player attached to the TV, a cumbersome and time-consuming proposition.

A USBTV player can tackle the problem by plugging directly into the USB port of virtually any personal computer, where it acts as a USB storage device for a rapid "drag and drop" of any desired file. At a press conference at CES, SanDisk demonstrated a product concept that employs a TV cradle and a remote control, allowing USBTV to connect to virtually any TV set. A key innovation incorporated into USBTV is a multimedia processor that converts the stored files into various TV video/audio formats for direct playback on virtually any TV without the need for any changes to the TV set.

The first pocket-sized players, expected to be available this spring, allow consumers to access an on-screen guide where they can pick and choose from content they've stored on the USBTV player and play it on a TV. No wireless set-up or complex networking equipment is required.

This simple PC-to-TV convergence also is expected to enable new product possibilities for USB flash drive manufacturers and consumer electronics companies. USBTV players will be able to plug into the standard A/V sockets of most existing TV sets through an adapter cradle that connects to the player. In the future, USBTV players may be able to plug directly into new TV sets through a built-in port.

In addition, USBTV is expected to increase content providers' sales and advertising revenue while extending their control of content. Consumers may be more likely to pay for a download when they know they can enjoy it immediately on any TV. USBTV is developing security features to prevent unauthorized use of protected content.

SanDisk has consulted experts from leading CE manufacturers on product and port requirements to encourage the incorporation of USBTV directly into television and display monitors. Included on the list of such manufacturers are the following:  
Other companies contributing to USBTV initiatives include Akimbo Systems, Inc., a pioneer in Internet-to-TV video-on-demand and aggregator of brand-name and specialty video, and Guba, a leading online entertainment destination. Movielink is also working closely with the Forum to enhance concepts focused on supporting and protecting movies and other rights-managed video content.
"USBTV represents a major advance for digital content providers," said Joshua Goldman, CEO of Akimbo. "By making it convenient for consumers to download content from the Internet and watch it on TV, USBTV will open the door to increased sales and new advertising opportunities for the entertainment industry."
Zoran Corporation, a leading provider of solutions in the growing digital entertainment and digital imaging markets, also today declared its support for the USBTV Forum. Leveraging over two decades of experience in delivering digital signal processing solutions, Zoran has contributed to the development of the initial USBTV concept. Zoran's Multimedia Processor IC supports popular digital media formats and low power consumption, making it ideal for the ultra-small USBTV players.
More information about the USBTV Forum and USBTV is available at
www.usbtv.org
SanDisk is the original inventor of flash storage cards and is the world's largest supplier of flash data storage card products, using its patented, high-density flash memory and controller technology. SanDisk is headquartered in Milpitas, California, and has operations worldwide, with more than half its sales outside the U.S.  
---
SanDisk's web site/home page address:
www.sandisk.com
SanDisk's product and executive images can be downloaded from
www.sandisk.com/corporate/mediakit/
SanDisk and the SanDisk logo are trademarks of SanDisk Corporation, registered in the United States and other countries. The USBTV logo is a trademark of SanDisk Corporation. Other brand names mentioned herein are for identification purposes only and may be the trademarks of their respective holder(s).
This press release contains certain forward-looking statements, including expectations for new product introductions, applications, markets, and customers that are based on our current expectations and involve numerous risks and uncertainties that may cause these forward-looking statements to be inaccurate. Risks that may cause these forward-looking statements to be inaccurate include among others: market demand for our products may grow more slowly than our expectations, competing products may overtake our products or there may be a slower adoption rate for these products in new markets that we are targeting and the other risks detailed from time-to-time in our Securities and Exchange Commission filings and reports, including, but not limited to, Form 10-K and our quarterly reports on Form 10-Q. We do not intend to update the information contained in this press release.
MEDIA CONTACT:
SanDisk Corporation
Ken Castle
(408) 801-2195
ken.castle@sandisk.com