Jan 8, 2007
ReadyBoost Accelerates Microsoft's New Windows Vista Operating System
By Using Fast Flash Memory to Extend Performance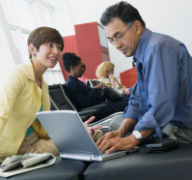 LAS VEGAS, NEVADA, Jan. 8, 2007 - SanDisk® Corporation (NASDAQ: SNDK) today announced it will offer broad support for the Windows ReadyBoost feature of Microsoft's new Windows Vista operating system. Select USB flash drives from SanDisk with capacities of 1GB* or more that ship after mid-February will be compatible with Windows ReadyBoost, as will select flash memory cards available later in the year. The announcement was made during a press conference at the Consumer Electronics Show, where SanDisk is demonstrating products in Booth #36206, South Hall 4 in the Las Vegas Convention Center.

Windows ReadyBoost, a performance enhancement feature new with Windows Vista, creates a "cache" of frequently needed data in otherwise unused space on a USB flash drive or flash memory card. This cache remains available even when the computer's random-access memory, or RAM, is fully occupied--speeding up system performance and improving the user experience, especially when multiple or large applications are running.

"As the world leader in flash memory, SanDisk is pleased to be a Microsoft premier partner for removable flash storage during the launch of Windows Vista," said Wes Brewer, vice president of consumer products marketing for SanDisk. "Windows ReadyBoost was designed by Microsoft to take advantage of flash memory's best attributes, including fast access and ease of use. Inserting a USB flash drive, widely available at retail stores, is certainly an easy way to increase system performance."

"We're excited about the tremendous support and enthusiasm SanDisk is providing for Windows Vista at this year's Consumer Electronics Show," said Brad Goldberg, general manager for Windows Client at Microsoft Corp. "By working closely together we are helping to provide technologies that will connect, entertain and hopefully surprise people by how easy this next generation of computing makes their lives."

SanDisk is a premier flash memory provider in the Partner Pavilion of Microsoft's booth in the Central Hall at CES. Also, SanDisk will supply about 5,000 USB flash drives to Microsoft for distribution to journalists covering Windows Vista. The new operating system was launched on Nov. 30, and will become available to consumers on Jan. 30.

Windows ReadyBoost works in conjunction with an innovative new memory manager in Windows Vista called Windows SuperFetch. SuperFetch continually analyzes memory usage patterns by looking at multiple factors, such as what applications are running and even the time of day, then accelerates performance by retrieving data it anticipates will be demanded next. This cache of "prefetched" data is typically held in the computer's random-access memory, or RAM, where it can be accessed much faster than from a hard disk.

Windows ReadyBoost taps unused storage space on USB flash drives or flash memory cards to establish a Windows SuperFetch cache. While not as fast as RAM, flash memory can deliver data up to five times faster than a hard disk under certain usages. This makes Windows ReadyBoost particularly suited to improving performance for computers with less than 1GB of RAM.

All versions of Windows Vista come with Windows ReadyBoost enabled by default. When a ReadyBoost-compatible flash drive or memory card is first connected to a computer, Windows Vista displays a window asking users how much of the drive or card's memory should be set aside for Windows ReadyBoost. Whatever space is not designated for Windows ReadyBoost will still be available for storing user data such as digital music, photos and work documents.

All data held in the ReadyBoost cache is encrypted, so there is no security risk if the flash drive or card is lost or stolen. A copy of the cached data is also kept on the computer's hard disk at all times, so no data is lost in the event the flash drive or card is removed.

Flash drives and cards must meet specific technical requirements set by Microsoft to work with Windows ReadyBoost; most existing drives and cards are not ReadyBoost-compatible. To help consumers know what they are buying, SanDisk will add the "Enhanced for Windows ReadyBoost" message to the packaging for its ReadyBoost-compatible flash drives and cards.

The new SanDisk Cruzer® Contour™, introduced today and due in stores in March, will carry the "Enhanced for Windows ReadyBoost" label. Other SanDisk flash drives with capacities of 1GB or more will also carry the label, starting in mid-February. Select Memory Stick™ and SecureDigital (SD™) cards from SanDisk will carry the label later this year.

SanDisk is the original inventor of flash storage cards and is the world's largest supplier of flash data storage card products, using its patented, high-density flash memory and controller technology. SanDisk is headquartered in Milpitas, California, and has operations worldwide, with more than half of its sales outside the U.S. 
---
* 1 gigabyte (GB) = 1 billion bytes

SanDisk's web site/home page address: www.sandisk.com 
SanDisk's product and executive images can be downloaded from /corporate/mediakit/

SanDisk and the SanDisk logo are trademarks of SanDisk Corporation, registered in the U.S. and other countries. Cruzer Contour is a trademark of SanDisk Corporation. Memory Stick is a trademark of Sony Corporation. SD is a trademark. All trade names are either registered trademarks or trademarks of their respective holders.

This press release contains certain forward-looking statements, including expectations for new product introductions, specifications, applications, markets, pricing, customer acceptance and customers that are based on our current expectations and involve numerous risks and uncertainties that may cause these forward-looking statements to be inaccurate. Risks that may cause these forward-looking statements to be inaccurate include among others: market demand for our products may grow more slowly than our expectations or there may be a slower adoption rate for these products in new markets that we are targeting, and the other risks detailed from time-to-time under the caption "Risk Factors" and elsewhere in our Securities and Exchange Commission filings and reports, including, but not limited to, Form 10-K and our quarterly reports on Form 10-Q. We do not intend to update the information contained in this press release.

MEDIA CONTACT:
SanDisk Corporation
Mike Wong
(408) 801-1240
mike.wong@sandisk.com