Nov 17, 2006
Dual-Branded White SD Card Enables Wii Owners To Store Game Saves,
Downloadable Games, Images and Other Content
MILPITAS, CA, NOVEMBER 17, 2006 - SanDisk ® Corporation (NASDAQ:SNDK) today announced that it is shipping special edition SanDisk SD ™ memory cards to major retailers in conjunction with the release of Nintendo's new Wii ™ game console, which is compatible with removable flash memory to store game saves, download games and view digital photos.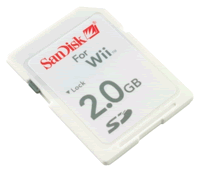 The white cards, bearing the label "SanDisk For Wii", will be available in three capacities - 512 megabytes (MB), 1 gigabyte (GB) and 2GB* -- at gaming and major consumer electronics stores. Suggested retail prices range from $34.99 to $89.99.
"We believe that the Wii, with its physically interactive format and compelling games, will be a big hit this holiday season, and these co-branded flash cards will make it easy for gamers to purchase memory that allows for the portability of game saves between Wii consoles," said Christina Day, SanDisk senior product marketing manager.
Gail Tilden, vice president of brand management for Nintendo of America, headquartered in Redmond, Wash., said, "We're happy to partner with SanDisk, the leading supplier of flash memory cards in the world, for our launch of  Wii. In order for owners to use innovative features such as the Wii Photo Channel, an SD card is a vital accessory."
Billy Pidgeon, gaming analyst for IDC, a leading consumer electronics research company, said that game refreshes with new elements from the Web should drive up demand for memory storage. "For game publishers, this is an excellent way to extend the lifespan of a game," he said. "Also, many older games are getting a second life because they can be re-introduced to a new audience through downloading."
Pidgeon said IDC research indicates that most gamers buy accessories for their consoles.** "Along with new consoles and popular games, peripherals are a key revenue driver." he said. "IDC research indicates that memory cards are second only to game controllers in accessories purchased for videogame consoles."
The Nintendo Wii can utilize the SanDisk Wii SD card in several ways. It can store game saves as well as back up Virtual Console games in the Wii Shop Channel. Also, the SanDisk Wii SD card can be used to display JPEG images from digital cameras, with sizes of up to 8,192 x 8,192 pixels. Further, the Wii will accept video files created in QuickTime (motion JPEG) with sizes of up to 848 x 480 pixels. And the Wii will play MP3 audio tracks as background music during a slide show of digital still photos.
SanDisk is the original inventor of flash storage cards and is the world's largest supplier of flash data storage card products, using its patented, high-density flash memory and controller technology. SanDisk is headquartered in Milpitas, CA and has operations worldwide, with more than half its sales outside the U.S.
______________________________________________________________________________________
* 1 megabyte (MB) = 1 million bytes; 1 gigabyte (GB) = 1 billion bytes.
** IDC's 2005 Videogame Survey: The Changing and Not-So-Changing Gamer, Doc #33883, Sept. 2005
SanDisk's product and executive images can be downloaded from
http://www.sandisk.com/about-sandisk/media-kit
SanDisk's web site/home page address: http://www.sandisk.com
SanDisk and the SanDisk logo are trademarks of SanDisk Corporation, registered in the United States and other countries. SD is a trademark. Wii is a trademark of Nintendo. Other brand names mentioned herein are for identification purposes only and may be the trademarks of their respective holder (s).
This press release contains certain forward-looking statements, including expectations for new product introductions, applications, markets, and customers that are based on our current expectations and involve numerous risks and uncertainties that may cause these forward-looking statements to be inaccurate. Risks that may cause these forward-looking statements to be inaccurate include among others: market demand for our products may grow more slowly than our expectations or there may be a slower adoption rate for these products in new markets that we are targeting, and the other risks detailed from time-to-time in our Securities and Exchange Commission filings and reports, including, but not limited to, Form 10-K and our quarterly reports on Form 10-Q. We do not intend to update the information contained in this press release. 
CONTACT: SanDisk Corporation 
Ken Castle 
(408) 801-7032 
kcastle@sandisk.com