Jun 13, 2006
Popular Keyboardist Freddie Ravel, The Jones Gang and Other Recording Artists Donate Song Tracks That Can Be Stored and Played on a USB Flash Drive

MILPITAS, CA, JUNE 13, 2006 - Owners of SanDisk's Cruzer® Freedom USB flash drive can now download more than 40 songs from a variety of international recording artists as part of an effort to raise money for victims of Hurricane Katrina. The offer uses a new technology that stores music to the flash drive but allows it to be played on any personal computer and other devices that accept USB connections.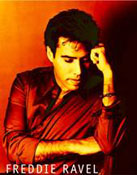 Although the tracks are available for free, SanDisk® (NASDAQ: SNDK) and the community of artists hope that Cruzer Freedom owners will make voluntary donations to their choice of charities involved with the Katrina disaster relief effort. There are links to these organizations from the Freedom online catalog, which offers books, music and other content. To access the catalog, users plug the drive into a USB port of a computer that is connected to the Internet and click on www.cfsv.com/Katrina/index.html.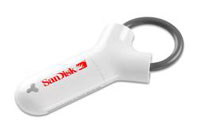 Jean-Christophe Klein, who heads up SanDisk's digital art platform, said, "SanDisk is honored to associate its name with the thousands of people who have already made a difference in saving lives and offering new hope. Along with this stellar group of performers, SanDisk asks that people who download this music click on the link and make a meaningful contribution to the charity of their choice."
Among the first entertainers to contribute music for the cause was Freddie Ravel, internationally acclaimed keyboardist. His 2005 remixed hit single, "Sol to Soul" is one of the songs available for download. Ravel actively performs on the smooth jazz concert circuit and has worked with artists as diverse as Madonna, Prince, Kanye West, Jennifer Lopez, Sting, Al Jarreau, Quincy Jones, Marc Anthony, Ricky Martin and Earth Wind & Fire.
Of his relationship with SanDisk and the Katrina campaign, Ravel said: "As a kid, I danced to the Latin/Caribbean rhythms and funky, sassy horns of the rich music of New Orleans. It is in this spirit that we offer 'Sol to Soul' - a groove of celebration where the light of giving from the 'sol' reaches out to the heart and 'souls' of our brothers and sisters of the Gulf states."
In addition to Ravel, The Jones Gang, a trio of high-profile rock performers who have been associated individually with some of the world's legendary rock bands (The Who, Foreigner and Bad Company among them), have contributed "Angel," the hit single from their debut album, "Any Day Now."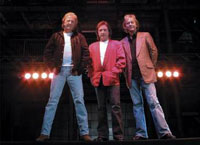 "This song is an inspirational gift for the people of New Orleans who are today rebuilding their lives and looking towards a promising future," said a statement issued by the band.
Apart from Ravel and The Jones Gang, a French electro-groove band named noJazz has donated a song called "Have Fun." Tracks are available as well from Israel-born jazz guitarist and composer Issi Rozen.
There are several world music tunes from Terra Humana, a label based in France, from artists Frederic Dubois and Shan Di, Karin Nobbs and Philip N'Bess, and Damhlaic and Dominique Verdan. In addition, Terra Humana is contributing an entire album called "New Orleans" with 11 tracks of jazz, blues, gospel and Cajun music.
SanDisk Cruzer Freedom, which recently received an Editor's Choice award from PC News Weekly Magazine, is available from several U.S. retailers, including Staples, as well as online at www.SanDisk.com. The unique flash drive was introduced last September for the educational market, allowing students, with the assistance of their parents and in cooperation with their schools and universities, to download purchased electronic versions of textbooks and other study materials from the SanDisk Freedom Web catalog.
Underlying the Cruzer Freedom is a technology called TrustedFlash™. This stores the content to the flash drive once it is downloaded, although the drive and its contents can be accessed from any PC. "However, beyond educational uses," said Klein, "the Cruzer Freedom has broader applications for storing a variety of exciting audio-video content in a controlled way and for a much wider audience."
---
SanDisk is the original inventor of flash storage cards and is the world's largest supplier of flash data storage card products, using its patented, high-density flash memory and controller technology. SanDisk is headquartered in Milpitas, CA and has operations worldwide, with more than half its sales outside the U.S.
SanDisk's product and executive images can be downloaded from
http://www.sandisk.com/about-sandisk/media-kit
SanDisk's web site/home page address: http://www.sandisk.com
SanDisk, the SanDisk logo and Cruzer are trademarks of SanDisk Corporation, registered in the United States and other countries. TrustedFlash is a trademark of SanDisk Corporation. Other brand names mentioned herein are for identification purposes only and may be the trademarks of their respective holder (s).
CONTACT:
SanDisk Corporation
Ken Castle
(408) 801-7032
kcastle@sandisk.com