May 10, 2006
Large Capacity Card Can Store Many Hours of Video, Music, Still Images, Gaming Content and Other Files

LOS ANGELES, CA, MAY 10, 2006 - SanDisk® Corporation (NASDAQ: SNDK) today responded to the growing demand from power users of the popular Sony PSP™ (PlayStation® Portable) by introducing a 4-gigabyte (GB)* SanDisk Memory Stick PRO Duo™ Game card that can store up to 64 hours of MP3 music tracks, 20 or more hours of movies/videos/film trailers, 12 hours of game saves, or 4,000 digital still images.**  The announcement was made at E3 at the Los Angeles Convention Center, where SanDisk is showing its new gaming products in Meeting Rooms 6809 and 6811 in Kentia Hall.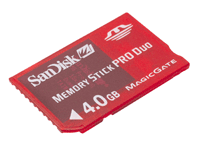 The 4GB card, which is expected to ship this month, carries a suggested retail price (SRP) of $219.99.  Other capacities in the Memory Stick PRO Duo Gaming Card line include 256 megabytes (MB)* at $34.99, 512MB at $44.99, 1GB at $59.99 and 2GB at $109.99 (SRPs).
"The PSP has clearly become more than just a gaming device," said Wes Brewer, SanDisk's vice president of consumer products marketing. "Since there is no internal memory for the PSP, a Memory Stick PRO Duo flash card is the only way to store large amounts of entertainment and other files.  Now that the PSP has been in the marketplace for over a year, many new services have sprung up to offer downloadable content such as movies, so the users are rapidly demanding higher capacity cards."
The PSP uses a proprietary storage medium called Universal Media Disc (UMD) for movies and games, but UMD discs are neither recordable nor writable.
SanDisk co-developed the Memory Stick PRO format with Sony. Last year, SanDisk introduced the new gaming line of Memory Stick PRO Duo cards in semi-transparent neon colors.  The new 4GB card is red.
SanDisk is the original inventor of flash storage cards and is the world's largest supplier of flash data storage card products, using its patented, high-density flash memory and controller technology. SanDisk is headquartered in Sunnyvale, CA and has operations worldwide, with more than half its sales outside the U.S.
---
SanDisk's product and executive images can be downloaded from http://www.sandisk.com/about-sandisk/media-kit
SanDisk's web site/home page address: http://www.sandisk.com 
*1 megabyte (MB) = 1 million bytes; 1 gigabyte (GB) = 1 billion bytes.
** Approximations based on MP3 files at 128kbps, video at 384kbps and photo at 3 megapixels (MP).
SanDisk and the SanDisk logo are trademarks of SanDisk Corporation, registered in the United States and other countries.  Memory Stick PRO Duo is a trademark of Sony Corporation. PSP and PlayStation are registered trademarks or trademarks of Sony Computer Entertainment, Inc. (SCEI). Other brand names mentioned herein are for identification purposes only and may be the trademarks of their respective holder (s).
This press release contains certain forward-looking statements, including expectations for new product introductions, applications, markets, and customers that are based on our current expectations and involve numerous risks and uncertainties that may cause these forward-looking statements to be inaccurate.  Risks that may cause these forward-looking statements to be inaccurate include among others: market demand for our products may grow more slowly than our expectations or there may be a slower adoption rate for these products in new markets that we are targeting, and the other risks detailed from time-to-time in our Securities and Exchange Commission filings and reports, including, but not limited to, Form 10-K and our quarterly reports on Form 10-Q.  We do not intend to update the information contained in this press release. 

CONTACT:
SanDisk Corporation
Ken Castle
(408) 542-9525kcastle@sandisk.com