Mar 9, 2006
Cards are positioned for feature phones with card slots that can store music, videos and high-resolution digital still images
HANNOVER, GERMANY, MARCH 9, 2006 - SanDisk® Corporation today introduced the SanDisk Ultra® II Mobile line of flash memory cards for multimedia-enabled mobile phones.  The SanDisk Ultra II Mobile memory cards have faster read and write speeds than standard flash memory cards, as well as longer warranty periods.  Faster read/write speeds improve performance of the card for file transfer and play on personal computers.  Also, they may reduce the energy consumption on the batteries of certain phones and are expected to accommodate performance requirements of future mobile phone models.  The announcement was made at the CeBIT Show in Hannover, Germany, where SanDisk is debuting its products at the Mobile Communications Pavilion, in Hall 26, Stand D79, and at the main SanDisk exhibit in Hall 1, Stand C31.

The new line, which will be in mobile phone stores and other retailers this spring, consists of three memory card formats: microSD™, miniSD™  and Memory Stick PRO Duo™ , and will be available starting at a capacity of 1 gigabyte (GB)*.  These high-capacity, high-performance SanDisk Ultra II cards have a minimum write speed of 9 megabytes (MB)* per second and read speed of 10MB/second**. The cards will be offered only in high capacities, ranging from 1GB to 4GB, and will have extended warranties in all regions of the world.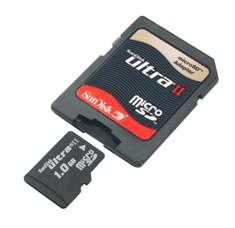 "Network operators and phone manufacturers are increasing the availability of premium content - such as music, movies, games and broadcast TV - that can be downloaded and stored on flash memory cards in the mobile phone," said David Smurthwaite, product marketing manager for SanDisk's mobile card line. "Our new SanDisk Ultra II Mobile line provides the ideal combination of speed, optimized energy consumption and high capacity points to meet the demands of the newest mobile phones as well as anticipated future models.  Users of phones with MP3 players are buying 1GB cards and will immediately benefit from the speed in transferring large music playlists and videos from their computer to their card."

Smurthwaite said that "power users with high-end mobiles who frequently swap out large music playlists and full-length videos will like the speed boost when they transfer files back and forth to their card from their computer."
| | | | |
| --- | --- | --- | --- |
| Model | Suggested Retail Price | Model | Suggested Retail Price |
| SanDisk Ultra II microSD, 1GB | $89.99 U.S. | Memory Stick PRO Duo, 1GB | $99.99 U.S. |
| SanDisk Ultra II miniSD, 1GB | $79.99 U.S. | Memory Stick PRO Duo, 2GB | $179.99 U.S. |
| SanDisk Ultra II miniSD, 2GB | $119.99 U.S. | Memory Stick PRO Duo, 4GB | $359.99 U.S. |
SanDisk is the original inventor of flash storage cards and is the world's largest supplier of flash data storage card products, using its patented, high-density flash memory and controller technology. SanDisk is headquartered in Sunnyvale, CA and has operations worldwide, with more than half its sales outside the U.S.
---

*1 megabyte (MB) = 1 million bytes; 1gigabyte (GB) = 1 billion bytes.
** Based on HD bench test results.
SanDisk's product images can be downloaded from
http://www.sandisk.com/about-sandisk/media-kit
SanDisk's web site/home page address: http://www.sandisk.com
SanDisk, the SanDisk logo and SanDisk Ultra are trademarks of SanDisk Corporation, registered in the United States and other countries.  Memory Stick PRO Duo is a trademark of Sony Corporation. SanDisk is an authorized licensee of the SD trademark. Other brand names mentioned herein are for identification purposes only and may be the trademarks of their respective holder (s).
This press release contains certain forward-looking statements, including expectations for new product introductions, applications, markets, and customers that are based on our current expectations and involve numerous risks and uncertainties that may cause these forward-looking statements to be inaccurate.  Risks that may cause these forward-looking statements to be inaccurate include among others: market demand for our products may grow more slowly than our expectations or there may be a slower adoption rate for these products in new markets that we are targeting and the other risks detailed from time-to-time in our Securities and Exchange Commission filings and reports, including, but not limited to, Form 10-K and our quarterly reports on Form 10-Q.  We do not intend to update the information contained in this press release.
CONTACT: 
SanDisk Corporation
Ken Castle
(408) 542-9525
kcastle@sandisk.com