Jan 5, 2006
Users Can Store Games and Game Data, Play Music, Transfer Wireless Internet Settings and View Digital Photos
LAS VEGAS, NV, JAN. 5, 2006 - Building on its strong entry into the handheld gaming market with high-capacity flash memory cards, SanDisk® Corporation (NASDAQ:SNDK) today introduced a gaming-oriented USB smart drive - the SanDisk Cruzer Crossfire™ - to serve the needs of console and PC video gamers. The announcement was made at the Consumer Electronics Show (CES), where SanDisk is demonstrating several new products at Booth 30329, Level 3 of the South Hall in the Las Vegas Convention Center.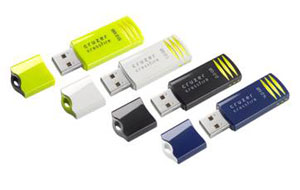 The SanDisk Cruzer Crossfire will be available in four color-coded capacities: 512 megabytes (MB) in green, 1 gigabyte (GB) in white, 2GB in black and 4GB* in blue.  The drive comes with an attractive metallic lanyard that attaches to a snap-on cap. When connected to a USB-enabled device, the Crossfire's indicator light pulses lime-green.
"The new gaming consoles, with their impressive graphics, are more than just gaming devices - they are multimedia centers," said Nelson Chan, SanDisk executive vice-president and general manager.  "As such, people can also use them to view their digital photos and play digital music, and a smart drive is a fast and convenient way to access this content."
Microsoft's recently released Xbox 360™ features three USB ports. And early announcements from both Sony and Nintendo have indicated that their next-generation game consoles - PlayStation3™ for Sony and Revolution™ for Nintendo - will also support USB connections when the consoles go on sale next year.
Apart from consoles, personal computer gaming also can make use of smart drives to save game levels, previews and interactive game content, according to Christina Day, SanDisk's senior manager of product marketing for gaming cards and flash drives. In that vein, the SanDisk Cruzer Crossfire is U3-enabled, thus providing a platform to store a variety of applications, including PC games.** And the U3 user interface, called the U3 Launchpad, is specially designed for gamers, said Day.
Market research company IDC estimates that worldwide shipments of gaming hardware will grow 28.6 percent from 2005 to 2006, reaching 60.4 million units and generating revenues of $25.6 billion.  "The launch of new consoles provides a number of opportunities for those supplying new products that take advantage of the unique features of the systems," said Schelley Olhava, IDC analyst. "Providing gamers with products that enhance the game experience is key to long-term success in this market."           
For owners of the Microsoft Xbox 360 console, the SanDisk Cruzer Crossfire can be used to play digital music tracks and show digital still images on any television set that is connected to an Xbox 360.    Also, gamers can use the SanDisk Cruzer Crossfire to transfer home wireless network settings from a PC to the Xbox 360.
Suggested retail prices for the SanDisk Cruzer Crossfire are $54.99 for 512MB, $99.99 for 1GB, $169.99 for 2GB and $329.99 for 4GB. The gaming drive will be sold in many of the 135,000-plus retail outlets worldwide where SanDisk products are available.
SanDisk is the original inventor of flash storage cards and is the world's largest supplier of flash data storage card products, using its patented, high-density flash memory and controller technology. SanDisk is headquartered in Sunnyvale, CA and has operations worldwide, with more than half its sales outside the U.S.
---
 * 1 megabyte (MB) = 1 million bytes; 1gigabyte (GB) = 1 billion bytes. Some of the listed capacity is used for formatting and other functions, and thus is not available for data storage.
** U3 functionality is not supported under Mac OS (any version).
SanDisk's product and executive images can be downloaded from
http://www.sandisk.com/about-sandisk/media-kit
SanDisk's web site/home page address: http://www.sandisk.com
SanDisk and the SanDisk logo are trademarks of SanDisk Corporation, registered in the and other countries.  Memory Stick PRO Duo is a trademark of Sony Corporation. PSP and PlayStation are registered trademarks or trademarks of Sony Computer Entertainment Inc. (SCEI). U3 and U3 smart logo are trademarks of U3, LLC. Other brand names mentioned herein are for identification purposes only and may be the trademarks of their respective holder (s).
CONTACT: 
SanDisk Corporation
Ken Castle
(408) 542-9525
kcastle@sandisk.com