SUNNYVALE, CA, Nov. 1, 2005- SanDisk® Corporation (NASDAQ:SNDK) today announced that Tom Baker has joined the company as vice president of Human Resources.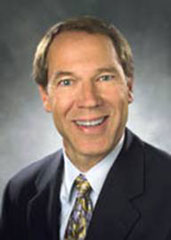 Baker has more than 25 years of experience in human resources and organizational development and reports to Judy Bruner, executive vice president of administration and Chief Financial Officer. Baker's responsibilities include developing strategies and programs that enhance the company's recruiting, compensation, benefits, management development, diversity and workplace culture.
Bruner said, "Due to unprecedented demand for our products on a global basis, SanDisk is expanding rapidly and recently surpassed 1,000 employees. Tom has a strong track record of building effective organizations and developing new HR processes and programs and will be a valuable member of our senior management team."
Baker has held a broad range of HR positions over the past 25 years. For the past five years, he was at Palm, most recently as vice president of HR. He has also held senior HR positions at TRW and Avery Dennison. His experience includes key positions in the areas of compensation & benefits, organizational development, training & development and staffing. For several years, he performed a dual role managing HR while serving as the VP of sales and administration, giving him direct experience with sales, order administration, customer service and distribution.
Baker received a B.S. from Cornell University and an MBA from Syracuse University.
SanDisk is the original inventor of flash storage cards and is the world's largest supplier of flash data storage card products using its patented, high-density flash memory and controller technology. SanDisk is headquartered in Sunnyvale, CA and has operations worldwide, with more than half its sales outside the U.S.
---
SanDisk's product images can be downloaded from www.sandisk.com/corporate/media.asp
SanDisk's web site/home page address: www.sandisk.com
SanDisk and the SanDisk logo and are trademarks of SanDisk Corporation, registered in the U.S. and other countries.
Contact:
Mike Wong
408-548-0223
mwong@sandisk.com