Oct 5, 2005
SUNNYVALE, CA, Oct. 5, 2005 - SanDisk® Corporation (NASDAQ: SNDK) today announced the appointment of Dr. Randhir Thakur to the newly created position of executive vice president of technology and worldwide operations. Dr. Thakur will be based at SanDisk's headquarters in Sunnyvale and will report directly to Sanjay Mehrotra, chief operating officer.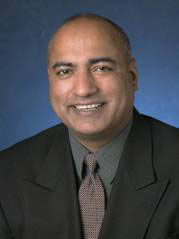 In his new role, Dr. Thakur will be responsible for all aspects of SanDisk's NAND flash memory roadmap including the design and development of flash memory and devices, and process and fab manufacturing/operations. In addition, he is also responsible for all of SanDisk's worldwide operations including assembly, test, manufacturing, fulfillment, demand/supply planning and logistics.
Mehrotra said, "Randhir's expertise and broad experience in semiconductor process and fab equipment technologies will be highly beneficial to the leadership and management of our leading edge MLC NAND flash technology development and 300mm manufacturing at our new Flash Partners Fab in Yokkaichi, Japan. I fully expect that Randhir's energy and experience will fuel considerable future success for SanDisk."
Most recently, Dr. Thakur was group vice president and general manager of the Front End Products Group at Applied Materials, where he was responsible for the development of new applications, materials and product technologies to solve transistor performance bottlenecks. He joined Applied Materials as chief technical officer of the Transistor and Capacitor Products Business Group.
Previously, Dr. Thakur was the chief technology officer and general manager at Steag Electronic Systems, working on chemical vapor deposition, wet clean and thermal product technologies. He also worked at AG Associates as vice president of research, development and technology and he held technical positions at Micron Technology.
Dr. Thakur holds more than 250 patents and has published more than 200 technical publications. He has served as editor or co-editor of various conference proceedings related to front end materials and technology development and is the recipient of several awards for his contributions to semiconductor process technologies.
Dr. Thakur received his B.S. degree (honors) in electronics and telecommunications engineering from the Regional Engineering College, Kurukshetra, India, and an M.S. degree in electrical engineering from the University of Saskatchewan, Canada. He received his Ph.D. in electrical engineering from the University of Oklahoma.
SanDisk is the original inventor of flash storage cards and is the world's largest supplier of flash data storage card products using its patented, high-density flash memory and controller technology. SanDisk is headquartered in Sunnyvale, CA and has operations worldwide, with more than half its sales outside the U.S.
---
SanDisk's web site/home page address: www.sandisk.com
Photo available at www.sandisk.com/Corporate/Default.aspx?CatID=1048
SanDisk and the SanDisk logo are trademarks of SanDisk Corporation, registered in the U.S. and other countries.
Contact:
SanDisk Corporation
Mike Wong
(408) 548-0223
mwong@sandisk.com