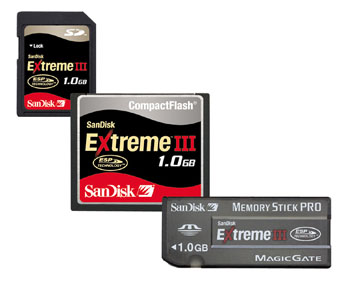 BERLIN, GERMANY, AUG. 17, 2005 - SanDisk® Corporation (NASDAQ: SNDK) today announced that the European Imaging & Sound Association (EISA), has named the SanDisk Extreme ™ III line of high-speed storage cards as the European Memory Card of the Year 2005-2006. The SanDisk Extreme III cards recently also won a TIPA (Technical Image Press Association) award, making this the second prestigious European award earned for the Extreme III cards' speed and performance.
EISA is the largest editorial multimedia organization in Europe, with a membership of fifty audio, mobile electronics, video and photo magazines from 20 European countries. The internationally renowned awards are presented annually in recognition of new products that combine the most advanced technology, performance and value. In 2004 SanDisk also won the award for the SanDisk Ultra ® II line of memory cards.
In a statement issued today, EISA said, " SanDisk Extreme III memory cards are fast, reliable and sturdy enough to meet the high demands of professional photography. For example, Enhanced Super Parallel Processing Technology (ESP) lets SD ™ and CompactFlash ® variants sustain a write speed of 20 megabytes per second (MB/Sec)*. And all models are proofed against shock, vibration and extreme temperatures (operating range is -25 to 85 Celsius). Professional digital photographers must be able to rely on their memory cards-the Extreme III range has proved itself more than equal to the task."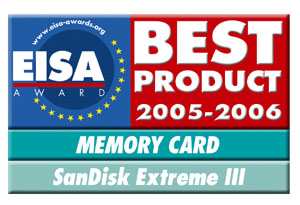 Tanya Chuang, product marketing manager for SanDisk's high performance flash memory cards, said, "SanDisk Extreme III cards are designed to provide professional photographers with the speed, performance and reliability that they require. We are honored to win this prestigious award and to be recognized by such a distinguished panel of imaging experts for our commitment to provide the best possible storage cards. The EISA 2005 award is further assurance that the Extreme III cards will meet the rigorous demands of digital photographers around the world."
The EISA award is an endorsement for the superior speed and performance of the SanDisk Extreme III line, which includes CompactFlash, Memory Stick PRO ™ and SD card formats. SanDisk Extreme III cards are targeted at high-megapixel resolution digital cameras that can take advantage of a significantly faster memory card. The CompactFlash and SD cards have minimum write and read speeds of 20MB/sec*. Memory Stick PRO has minimum write and read speeds of 18MB/sec*. The cards range in capacity between 1 and 4 gigabytes**.
SanDisk is the original inventor of flash storage card products, and is the world's largest supplier of flash data storage card products, using its patented, high-density flash memory and controller technology. SanDisk is headquartered in Sunnyvale, CA and has operations worldwide, with more than half of its sales outside the U.S.
---
*Based on SanDisk internal testing.
**1 megabyte = 1 million bytes; 1 gigabyte = 1 billion bytes.
SanDisks product and executive images can be downloaded from www.sandisk.com/Corporate/MediaKit/
SanDisks web site/home page address: www.sandisk.com
SanDisk, the SanDisk logo, CompactFlash and SanDisk Ultra are trademarks of SanDisk Corporation, registered in the U.S. and other countries. SanDisk Extreme is a trademark of SanDisk Corporation. Memory Stick PRO is a trademark of Sony Corporation. SanDisk is an authorized licensee of the SD trademark. Other brand names mentioned herein are for identification purposes only and may be trademarks of their respective holder(s).

Contact:
Bob Goligoski
SanDisk Corporation
(408) 542 - 0463
bgoligoski@sandisk.com
Solid Ground (Europe)
31 (0) 23 533 4099
sandisk@solidground.nl