Jul 16, 2003
Year-over-Year Growth in Revenues of 84% and Earnings per Share of 300%
SUNNYVALE, CA, July 16, 2003 -- SanDisk Corporation (NASDAQ:SNDK), the world's largest supplier of flash memory data storage card products, today announced results for the second quarter ended June 30, 2003. Total second quarter revenues grew 84% to $234.6 million compared to the second quarter of 2002 and increased 34% from the prior quarter of 2003. Second quarter net income was $41.3 million compared to $9.0 million and $24.9 million for the prior year's corresponding quarter and the first quarter of 2003, respectively. Earnings per share grew 300% for the second quarter of 2003 and were $0.52 per diluted share compared with $0.13 per diluted share in the same quarter of 2002. Earnings per share grew 58% sequentially compared to $0.33 per diluted share in the first quarter of 2003.
"The second quarter was our best quarter ever for revenues and operating earnings. Megabytes and units sold in the quarter reflect record performance, far exceeding our internal forecasts. Demand for our products was exceptionally strong throughout the quarter from OEM and retail customers in all geographies. Current market demand is driven by strong sales of digital cameras as well as accelerating sales of camera cell phones, USB flashdrives and numerous other new applications for NAND flash. I am particularly pleased with our increasing penetration into the camera cell phone market, as well as our excellent internal execution in launching the miniSD card in the second quarter," said Eli Harari, President and CEO of SanDisk Corporation. "Current demand for NAND flash is exceeding the total industry supply, resulting in a benign pricing environment as we enter the third quarter. I am optimistic about our business prospects in the second half of the year."
Q2 Financial Highlights
• Product revenues were a record $214.0 million, a growth rate of 85% year-over-year and 38% sequentially.
• License and royalty revenues were $20.6 million and included a one-time catch-up payment of approximately $3 million from one of our licensees.
• Total megabytes sold were a record and grew in excess of 200% year-over-year and 54% sequentially.
• Record units were sold and grew in excess of 100% year-over-year and 51% sequentially.
• Average price per megabyte sold declined 11% sequentially and 42% year-over-year.
• Total gross margin was 38% of total revenues and product gross margin was 32%.
• SanDisk shipped more than one million miniSD cards in the second quarter product launch; the highest volume launch in SanDisk's history.
• Secure Digital card revenues continued to accelerate and grew more than 50% sequentially.
• Net cash provided by operating activities was $62.4 million. SanDisk's cash and short-term investment position increased to $530.3 million.
Q2 Business Highlights
• SanDisk began supplying the new miniSD card for the i-mode 505i series mobile camera phones sold in Japan by NTT DoCoMo. Some of these 505i mobile phones are bundled with a 16-megabyte miniSD card supplied by SanDisk. SanDisk also began selling miniSD cards through retail stores in Japan.
• SanDisk signed an expanded cross-licensing agreement that strengthens our relationship with Sony and enables SanDisk to manufacture and resell various Memory Stick products under the SanDisk brand to our retail and OEM customers. These products include Memory Stick, Memory Stick Duo, Memory Stick with Memory Select Function, Memory Stick I/O cards and Memory Stick PRO.
• SanDisk signed an agreement with Olympus enabling us to manufacture xD-Picture Cards for Olympus and to sell cards under the Olympus brand, in SanDisk's packaging, through our global retail distribution channel of more than 50,000 store fronts.
• Toshiba and SanDisk tested and demonstrated performance and reliability of a high-density NAND flash memory cell structure that is expected to allow production of 4-Gigabit NAND flash memory using the 90 nanometer design rules in 2004.
• Conversion of .16 micron NAND to .13 micron NAND at Yokkaichi proceeded on schedule in the second quarter and is expected to be completed in the third quarter as planned.
• FORTUNE magazine selected SanDisk for inclusion in their list of top 40 market performers.
• Business Week listed SanDisk as one of the world's 100 best performing technology companies.
• Circuit City awarded SanDisk the 2002 Merchandising Vendor Excellence award.
Business Outlook
Despite continued limited bookings visibility, we are optimistic about our business prospects in the second half of the year. In the third quarter, we are projecting continued strength in demand for our products in a relatively benign pricing environment fostered by industry-wide NAND flash memory capacity shortages. We are operating at 100% capacity utilization of our captive sources and maximizing our purchases from non-captive sources. Third quarter product revenues are expected to be capped at a level slightly higher than in the strong second quarter due to these capacity constraints. License and royalty revenues are expected to be approximately $18 million and operating expenses are projected to increase by approximately 12% sequentially. We project that third quarter product gross margins will be in the range of 28-32% which includes increased contribution from non-captive sources that typically generate lower product gross margins. The effective tax rate is forecast to increase to approximately 15% for the second half of the year. Share count changes will largely be a function of the average quarterly stock price. We expect our NAND flash supply availability from captive and non-captive sources to improve considerably in the fourth quarter, in time for the expected seasonally strong year-end.
Forward-Looking Statement
This news release contains certain forward-looking statements, including our business outlook, expectations for new product introductions, capacity, future product revenues, average selling prices, gross margins, operating margins and tax rates, that are based on our current expectations and involve numerous risks and uncertainties that may cause these forward-looking statements to be inaccurate and may significantly and adversely affect our business, financial condition and results of operations. Risks that may cause these forward-looking statements to be inaccurate include among others: fluctuations in operating results, yields and possible delays related to the start-up of .13 micron flash memory wafer production for FlashVision at the Yokkaichi facility in Japan, delays in qualification of some new .13 micron product components, any interruption of supply from the Yokkaichi facility, future average selling price erosion due to excess industry capacity, current global economic and geo-political conditions, the timely development, internal qualification and customer acceptance of new products such as the new miniSD, as well as new products that are based on the NAND and NAND/MLC .13 micron flash chips, fluctuations in royalty revenues, business disruption including reduced sales to our customers in the Pacific Rim that may arise from regional issues in Asia, further impairment of our investments in Tower Semiconductor Ltd. and UMC due to any further decline in stock valuations and the other risks detailed from time-to-time in our Securities and Exchange Commission filings and reports, including, but not limited to, the Registration Statement on Form S-3 filed on July 16, 2003, the Form 10-Q for the quarter ended March 31, 2003 and the Annual Report on Form 10-K for the year ended December 31, 2002. Future results may differ materially from those previously reported. We assume no obligation to update the information contained in this release.
About SanDisk
SanDisk Corporation, the world's largest supplier of flash memory data storage card products, designs, manufactures and markets industry-standard, solid-state data, digital imaging and audio storage products using its patented, high-density flash memory and controller technology. SanDisk is based in Sunnyvale, CA.
Additional Information
SanDisk announced separately today the filing of a shelf registration statement for an equity offering of up to $500 million.
Conference Call
SanDisk's second quarter 2003 conference call is scheduled for 2:00 p.m. Pacific Time, Wednesday, July 16th. The conference call is being webcast by CCBN and can be accessed live, and throughout the quarter, at SanDisk's website at www.sandisk.com/IR and at www.streetevents.com for registered streetevents.com users. To participate in the call via telephone, the dial in number is (800) 946-0712. The call will also be available by telephone replay after 6:00 p.m. Pacific Time on July 16th through Sunday, July 20, 2003, by dialing (888) 203-1112 and entering the pass code 541797. A copy of this press release will be filed with the Securities and Exchange Commission on a current report on Form 8-K and will be posted to our website.
SanDisk's web site / home page address: www.sandisk.com
All trade names are either registered trademarks or trademarks of their respective holders.
i-Mode is NTT DoCoMo's registered mark.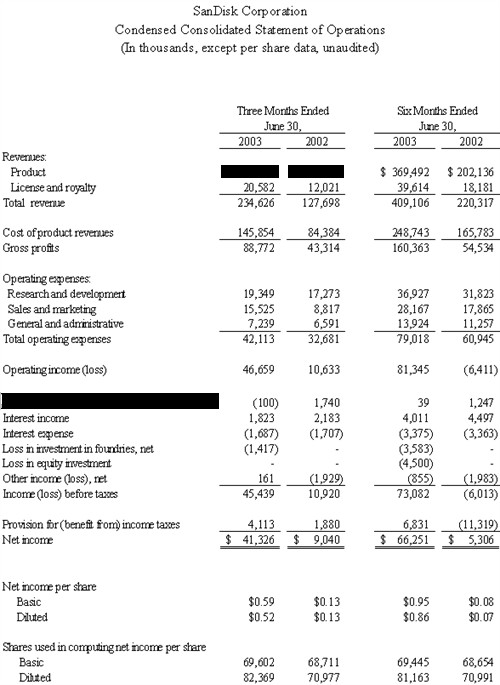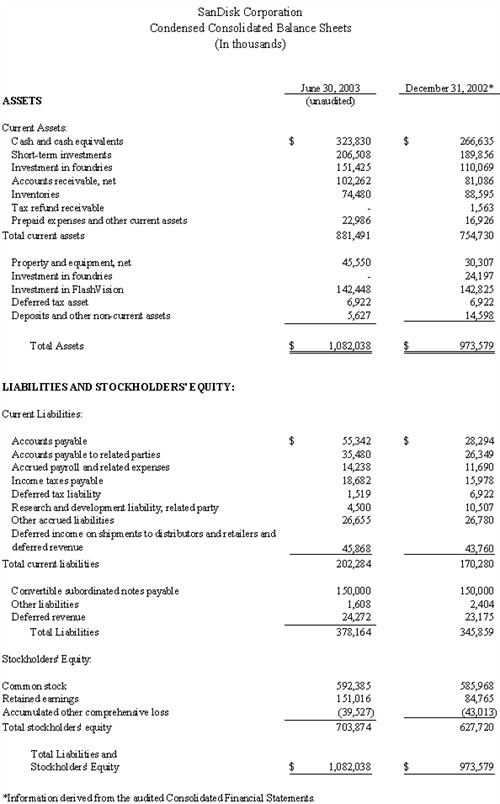 ---