Jan 9, 2003
New Memory Stick PRO Format Offers Advanced Features Including Capability to Record High-Resolution Moving Images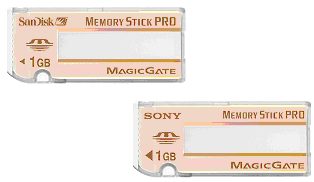 1GB Memory Stick PRO media (SanDisk left, Sony right)
LAS VEGAS (CES Booth #10728), Jan. 9, 2003 -- SanDisk Corporation (NASDQ: SNDK) and Sony Corporation today announced that they have developed the Memory Stick PRO format, a new generation of IC recording media that features high capacity, high-speed data transfer, high-level security and other future expandability. The new format makes it possible for optimized devices to reach new levels of performance, such as real-time recording of high-resolution moving images and data loss prevention in the event of accidental removal of the media during file recording. Derived from a combination of conceptual keywords, "progressive" "professional" and "protection," the Memory Stick PRO format incorporates a variety of technical capabilities to accommodate a wide range of user demands and ensures high-level security for protecting commercial and personal content.
Nelson Chan, Senior Vice President and General Manager of SanDisks Retail Business Unit, said, "SanDisk and Sony share an exciting vision for the Memory Stick PRO. SanDisk has contributed its expertise and intellectual property in flash memory cards to jointly develop this new format that is optimized for applications that require performance and capacity such as digital audio and video. I am proud of the close cooperation we have established with Sony and look forward to seeing the exciting new products that Memory Stick PRO enables."
"This joint development between SanDisk and Sony marks a new era of IC recording media that will address the all-important question of what users can do with a memory card, rather than how much information she or he can store," said Yutaka Nakagawa, Senior General Manager of Memory Stick Business Center of Sony Corporation. "The new Memory Stick PRO format not only answers the demand for higher performance memory cards, but it also opens up a new world of possibilities never before imagined."
The new advanced media, working in concert with optimized Memory Stick PRO format-compatible devices will bring a higher level of performance, convenience and enjoyment that could not be experienced with existing flash memory technology.
The Memory Stick PRO format is designed to enable users to listen, watch and enjoy a variety of high-quality content including high-resolution, megapixel digital images, CD-quality audio and DVD-quality moving images.
In addition to improved transfer speed of up to 160 megabits per second (Mbps)* and specified maximum capacity of up to 32GB to accommodate high capacity data recording, a unique advantage of the Memory Stick PRO format is the minimum write speed** of 15Mbps as a format standard. The minimum write speed of 15Mbps will realize continuous real-time recording of DVD-quality moving images and ensure greater reliability by preventing data loss due to sudden power shortage or accidental removal of media while recording or transferring files.
* Theoretical maximum speed
**The minimum write speed of 15Mbps can be realized with optimized Memory Stick PRO format-compatible devices.
The new format includes the MagicGate™ copyright protection technology, which will provide secure protection of commercial and copyrighted content, such as digital music and in the future, video and games.
By optimizing the embedded intelligent controller unit, the Memory Stick PRO format will also provide a truly unique method of securing personal data. Tentatively dubbed as the "Access Control Function," the new protection technology will have the capability of securing all content on the media, preventing others from accessing any of the files in the event the card is stolen or lost.
As an advanced new-generation media format, Memory Stick PRO offers future expandability that will allow it to continue evolving to bring new, exciting applications and benefits to its users.
Memory Stick PRO format-compatible products will be introduced into the market sequentially. Memory Stick PRO media with 1GB, 512MB, and 256MB capacities will be available worldwide this spring.
Specifications

Dimensions: 21.5 x 50 x 2.8mm (same as existing Memory Stick)
Capacity: 32GB (Theoretical maximum)
Connector Pin: 10pin
Connector Shape: Same as existing Memory Stick (Planar electrode one-row)
Transfer Speed: 160Mbps (20MB/sec) (Theoretical maximum)
Minimum Write Speed: 15Mbps (when combined with optimized Memory Stick PRO format-compatible devices)
Power Source: 2.7-3.6V
Current: 100mA Maximum
About SanDisk Corporation:
SanDisk Corporation, the worlds largest supplier of flash data storage products, designs, manufactures and markets industry-standard, solid-state data, digital imaging and audio storage products using its patented, high density flash memory and controller technology. SanDisk is based in Sunnyvale, Calif. SanDisks web site/home page address is www.sandisk.com.
About Sony Corporation:
Sony Corporation is a leading manufacturer of audio, video, game, communications and information technology products for the consumer and professional markets. With its music, pictures, computer entertainment and on-line businesses, Sony is uniquely positioned to be a leading personal broadband entertainment company in the world. Sony recorded consolidated annual sales of nearly $57 billion for the fiscal year ended March 31, 2002. Sonys Home Page URL: www.sony.net.
All trade names are either registered trademarks or trademarks of their respective holders.